Ghostbusters (1984 Original)
(1984)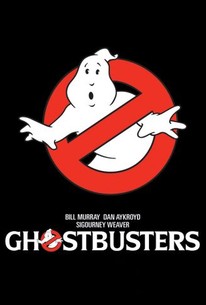 TOMATOMETER
AUDIENCE SCORE
Critic Consensus: An infectiously fun blend of special effects and comedy, with Bill Murray's hilarious deadpan performance leading a cast of great comic turns.
Ghostbusters (1984 Original) Videos
Ghostbusters (1984 Original) Photos
Movie Info
Bill Murray, Dan Aykroyd, Harold Ramis and Ernie Hudson star as a quartet of Manhattan-based "paranormal investigators". When their government grants run out, the former three go into business as The Ghostbusters, later hiring Hudson on. Armed with electronic paraphernalia, the team is spectacularly successful, ridding The Big Apple of dozens of ghoulies, ghosties and long-legged beasties. Tight-lipped bureaucrat William Atherton regards the Ghostbusters as a bunch of charlatans, but is forced to eat his words when New York is besieged by an army of unfriendly spirits, conjured up by a long-dead Babylonian demon and "channelled" through beautiful cellist Sigourney Weaver and nerdish Rick Moranis. The climax is a glorious sendup of every Godzilla movie ever made-and we daresay it cost more than a year's worth of Japanese monster flicks combined. Who'd ever dream that the chubby, cheery Stay-Puft Marshmallow Man would turn out to be the most malevolent threat ever faced by New York City? When the script for Ghostbusters was forged by Dan Aykroyd and Harold Ramis, John Belushi was slated to play the Bill Murray role; Belushi's death in 1982 not only necessitated the hiring of Murray, but also an extensive rewrite. The most expensive comedy made up to 1984, Ghostbusters made money hand over fist, spawning not only a 1989 sequel but also two animated TV series (one of them partially based on an earlier live-action TV weekly, titled The Ghost Busters. ~ Hal Erickson, Rovi
Rating:
PG
Genre:
, ,
Directed By:
Written By:
In Theaters:
On DVD:
Runtime:
Studio:
Cast
Critic Reviews for Ghostbusters (1984 Original)
Audience Reviews for Ghostbusters (1984 Original)
½
"Ghostbusters" stands as one of the best horror/comedies out there. It is hilarious in almost every sense of the word, even if not in the conventional way, and it never falls short with the cheesy scares. It can be genuinely shocking at times but that is taken away immediately throughout the film, especially due to the lack of seriousness. This all being said, "Ghostbusters" is an extremely unique film that will never be able to be touched by any filmmaker. It's smart, cool, slick, witty, scary, and intense. The only issue this film has is that the title is not explored to it's highest potential. It sets up a great premise but it takes just a tad too long to reach the climax in my opinion. Overall, I loved every minute of "Ghostbusters" and it deserves the fame that it has.
Ghostbusters is quite simply one of my most beloved films of all time. The iconic production is a perfect marriage of a special effects extravaganza with spectacular performances to create one side-splitting gem. Bill Murray is the undeniable star and he's in top form as Dr. Peter Venkman a sly, laid back scientist with deadpan delivery that seems more concerned with dating his pretty client Dana Barrett than actually getting to the bottom of her disturbances. Sigourney Weaver nicely straddles the line between exasperated annoyance and charmed love interest. Bill Murray likewise has great camaraderie with his fellow Ghostbusters Dr. Ray Stantz (Dan Aykroyd) and Dr. Egon Spengler (Harold Ramis). Those two are also responsible for writing the finely tuned screenplay. It zips, it pops and it never lets up. Ernie Hudson joins them later as Winston Zeddemore. He delivers my favorite quip after the group is blown away by the lightening bolts of an evil entity from another dimension. There is a slew of funny dialogue and Rick Moranis' nerdy portrayal of Louis Tully delivers a lot of it. He's hilarious. "Okay, who brought the dog?" he grins after hearing the growl from the long horned beast hiding in his closet. The spectacular special effects support the story, but they never threaten to overshadow the actors. The technology was state of the art at the time, even earning an Academy Award nomination. But it lost to the mine cart scene in Indiana Jones and the Temple of Doom. Perhaps time has rendered the optics a bit quaint to a modern audience. The sight of that devil dog leaping from the closet and running around the city is the most dicey. But it's the comedic interactions between characters that hold our focus, not the whiz bang appeal of the visual displays. Ok so there's that "monster" near the end that dwarfs everything else. When the Destructor of their choosing threatens the city and their very existence, it's memorable. That's the kind of silly moment of brilliance that make you realize you're watching a work of creative genius. Oh yeah. I adore this film. fastfilmreviews.com
Mark Hobin
Super Reviewer
MisterYoda ?
Super Reviewer
Discussion Forum
Discuss Ghostbusters (1984 Original) on our Movie forum!
News & Features