Ghostbusters 2
(1989)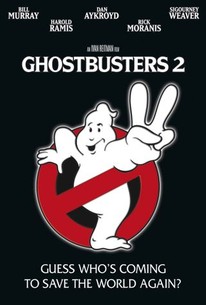 Movie Info
Ivan Reitman's sequel to the phenomenally successful Ghostbusters is looser and more self-assured than the original. The film opens with a title reading "Five Years Later" and finds the ghostbusters living in hard times. A restraining order has forbidden the boys to partake in paranormal warfare, and as a result they have had to seek other lines of work. Ray (Dan Aykroyd) and Winston (Ernie Hudson) spend their time performing at children's' birthday parties, and Egon (Harold Ramis) is busy conducting experiments investigating the effect of human emotions on the environment, leaving ghostbusting behind. Venkman (Bill Murray) and Dana (Sigourney Weaver) have split up. Venkman now hosts a local cable show called "The World of the Psychic." Dana, now divorced and the mother of a little baby named Oscar, works as an art restorer in a museum -- and this is where the plot kicks in. While Dana is restoring a portrait of a 16th-century tyrant by the name of Vigo the Carpathian, the portrait becomes hexed. The evil Vigo wants to return to life by taking over the body of Dana's little child. Vigo has enlisted Dana's boss, Janosz Poha (Peter MacNicol), to compel Dana to cooperate. Soon dirty sludge and slime flow through the streets of Manhattan, and the ghostbusters have to reunite to save the city from a funky paranormal evil. ~ Paul Brenner, Rovi
News & Interviews for Ghostbusters 2
Critic Reviews for Ghostbusters 2
Audience Reviews for Ghostbusters 2
It's pretty tough for a sequel to best, let alone match it's predecessor, especially when the first one is an undisputed masterpiece. So yeah, Ghostbusters II isn't as good as the first, but it's not a bad film by any means. Unfortunately most people don't see it that way. Me, I really like this one, and think it's still a really decent film, even though it isn't what it could have been. The story begins five years after the first. Following the defeat of Gozer at the end of the first film, the Ghostbusters have actually fallen on hard times. Instead of being hailed as saviors, they have since been slapped with a restraining order and forced to cease their ghostbusting due to all the collateral damage their 'busting' causes. As a result, the four have hung up their proton packs and gone on to other activities. However, they are forced to get back to it when an evil ooze begins wreaking havoc, especially when it possesses a painting of an evil 16th Century Carpathian tyrant named Vigo, causing him to come to life to terrorize all who end up in his way. I think the main issue at hand here is sequelitis. It's just unable to capture the magic that made the first so special. It doesn't have the freshness, nor does it have the same level of laughs, wit, and energy. Ivan Reitman returned as director, and co-stars Aykroyd and Ramis once again wrote the script, and, while they don't do bad in these roles, their performances don't really stand out. I do however, like that they raised the stakes, and showed how actions have consequences. I just wish they could have come up with some more creative and stronger ideas. The music is still good though, and I still dig the effects, and yeah, the performances are fine, if slightly worn, but, even though this one has it's moments, it doesn't have near as much heart as it should. I'm still giving this one a really high rating though, as I'm a big fan, I like these guys and what they do, and it's still a fun and entertaining film. Yeah, some of it is a bit sillier, but I can't help but like it. Without a doubt, my main reason for really liking this is personal. Sentimentality is key here, as the earliest memory that I can recall is seeing this in the theater when I was a mere three years old. I can only recall one scene clearly, but still, it's a memory I want to cherish as long as possible. Bottom line: yeah, this is a step down, but it's still a pretty decent film, and offers a fair amount of entertainment, and, compared to a lot of sequels, it's quite strong, so give it a chance.
Chris Weber
Super Reviewer
½
For a sequel to a masterpiece it couldn't possibly live up to, this is quite an underrated bit of fun. Not sure why so many hold it in such low regard, because I think it successfully maintains the spirit of its predecessor. Sure, the plot isn't as exciting and the main villain is kind of lame, but the wonderful wit and interplay is still very much intact, which is what counts in my book. I suppose Bill Murray is chiefly to thank for that though. You can't help but love his sarcastic, cynical and hopelessly womanizing character. His lines are so perfectly timed that you're wondering if he's not making it all up on the spot. At any rate, we can only hope that the intended third film (which now, perhaps for the best, looks doomed to become a non-event) won't ruin any of that. I mean, Hollywood has already managed to defile other 80's gems like Star Wars and Indiana Jones. If the same thing happens to the Ghostbusters franchise, I don't know what I'll do, but it ain't gonna be pretty. And by "not pretty" I mean something along the lines of Vigo's morning face.
The Original Ghostbusters set a new standard for comedy, horror and Sci Fi. The first was a big hit, and is one of the best comedies with Sci Fi and horror elements. It's only naturally that they would make a sequel to the first one. The question that one who's never seen the sequel will probably ask the age old question, is it better than the first one? Unfortunately no. The film feels more silly than fun, and the characters here are more irritating. What made the original so good was the witty originality and the use of many genres to create a terrific, memorable film. With Ghostbusters it acts more of a comedy as the aspects that made the original so good, are almost entirely absent. The film is very tongue in Cheek, and while the first had a bit of seriousness to its brand of comedy, the comedy shown here is almost frustrating and not original. Ghostbusters was an effective film due to the simple fact that it blended Comedy, sci fi, horror and mystery in to it's well written script. Ghostbusters 2 is an inferior sequel but definitely has good enough elements going for it that it's still a average film to watch. The film may make you divided in the sense that you either don't know if it's good, bad or awful. But if you loved the first entry, and I mean really enjoyed it, then you might be disappointed with this film. But with this one, it seems a little tired out. But it's still a good film to watch, and has some good creative elements, and despite all its faults, in the end who you gonna call?
Ghostbusters 2 Quotes
| | |
| --- | --- |
| Peter Venkman: | Kitten, I think what I'm trying to say is, sometimes, shit happens, and who ya gonna call? |
| | |
| --- | --- |
| Louis Tully: | So, you wanna play 'Boggle' or 'Super Mario Brothers'? |
| | |
| --- | --- |
| Dana Barrett: | (about Oscar)What do you think? |
| Peter Venkman: | Well, he's ugly. |
| | |
| --- | --- |
| Peter Venkman: | oh did you ever fall for that, the old hand eating toaster trick. |
| Peter Venkman: | Oh did you ever fall for that, the old hand eating toaster trick. |