Ghosts Can't Do It
(1990)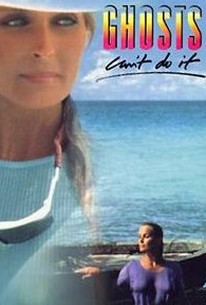 AUDIENCE SCORE
Critic Consensus: No consensus yet.
Ghosts Can't Do It Videos
Ghosts Can't Do It Photos
Movie Info
This sex-related comedy tells the tale of a man who goes back to his wife even though she repeatedly tried to kill him.
Rating:
R (adult situations/language, nudity)
Genre:
, , ,
Directed By:
Written By:
In Theaters:
On DVD:
Runtime:
Studio:
Sony Pictures Home Entertainment
Critic Reviews for Ghosts Can't Do It
All Critics (3) | Fresh (0) | Rotten (3)
Donald Trump, America's favorite fascist, earned the Razzie Award for Best Supporting Actor, but he's hardly the worst this film has to offer.

Sorta like Ghost, but this one's inept in almost every possible way.

manages to top even such masterworks of schlock as (the Dereks') earlier 'Bolero,' 'Fantasies' and their perversion of 'Tarzan the Ape Man' for sheer artistic ineptitude.
Audience Reviews for Ghosts Can't Do It
Ghosts Can?t Do It (1989) was marketed as a sexy comedy, rich old man, Scott (Anthony Quinn) with a much younger wife, Katie (Bo Derek) dies then looks for a young body to inhabit so he can ravish Katie again. Bo Derek is naked in Ghosts so the film is sexy. There are, however, too many dour issues for the film to work as comedy. In the first scene of the film (following title cards that represent the typical John Derek machismo images: stills of horse riding, snowy mountainous regions and cattle), Scott is horseback riding with Katie. He falls off his horse (he is having a heart attack). Next, he is in the hospital being told he is too old to get a heart transplant. The first third of the film is about Scott preparing for his death and saying goodbye to his much younger wife. It is worth noting that the director (John Derek) suffered from a bum ticker through much of his marriage to the 30 years his junior Bo. This inside knowledge gives a number of scenes more dramatic heft: When Scott tells Katie not to cry or wear black to the funeral, one wonders if John had the same conversation with Bo and when Scott kills himself Hemingway-style (he considered pills but as he explains, "Real men don?t eat quiche), one wonders how much John was actually suffering. When Katie always refers to Scott as Great One and he asks to bite her lip as a turn on, well?one wonders about that too. All this is to say that the story feels like the most personal yet from writer, director, cinematographer John Derek and as a personal statement I would rank it right up there with the work of another John, John Cassavetes. The great Scott dies. He is in limbo telling an angel (Julie Newmar) that he wants to return to Earth in a new body. He is able to travel and appear to Katie (don?t ask me how, I am no theologian). Katie finds out from a psychic that Scott can inhabit a body if the body is about to die. A young Greek fisherman happens into town. Scott wants to be young this time (who wouldn?t given the choice?) so Katie tells the fisherman that her husband wants to inhabit his body. It is worth noting that Katie talks to Scott?s ghost all the time in the film and no one reacts like she is that bonkers, helps to be rich and pretty. One person who knows immediately that she is talking to her husband is Winston (Don Murray), a graying business partner of her last husband and a longtime friend. Winston arrives to help her run Scott?s diamond empire (the main character?s wealth allows for typical John Derek scenes of opulence: luxury travel to Sri Lanks, Hong Kong, lovely jewels and even Donald Trump in a small role) and tells her he loves her: ?Just being around you for a while would be like Christmas.? Winston is a sweet guy and when he asks her to dance, she declines saying she had not done it in years because her husband hated it. Scott?s ghost, overhearing, is shocked that Katie liked to dance and is soon bullish and leaves in a huff when Katie does agree to a dance with Winston. Winston comes across as a very good man, but it is not to be; the young Greek nearly drowns and Scott takes the body. Katie and the new Scott make love like rabbits. The end. One could ask why didn?t Katie just end up with Winston (films have been made where a ghost let?s his love be happy with someone else) One could also ask why a man who kills himself is allowed to inhabit another body on Earth. I suspect the answer to both questions is because, conventional film be damned, John Derek wanted it so. He would have loved to return to Bo as a young man so he made a movie about it. Bo explained in her autobiography Riding Lessons that John, an esteemed horseman, stopped riding horses when he and Bo got together. Bo, who loved to ride, asked him why. He explained how he hated being told what to do so he no longer wanted to even tell an animal what to do. He told Bo, ?Keep riding. I enjoy watching you.? The last scene of Ghosts sees Bo and young Scott riding horses together, moving stuff. I think John?s enjoyment of Bo is what kept him going for another 7 years after Ghosts Can Do It. He died in a hospital of congestive heart failure in 1996. Bo eventually found love with John Corbett (8 years her junior)
Den Alias
½
[img]http://www.geocities.com/Hollywood/Academy/8035/slaves.jpg[/img] Naaooww! Its has nothing to do wi' the picture show named above, [b][i]GHOSTS CAN'T DO IT[/i][/b]. I just liked the poster! Hey! [b]Bo Derek! Anthony Quinn![/b] He's sixty and she's thirty. He dies but he can still communicate with her, so they hatches a plot, see, to drown a young'un so as Zorba the Greek can have sex wi' his living bride. Oh and I love the title. Farcical thriller, like Topper gone mad on Viagra and out to kill the pool boy. I expected such of Anthony Quinn, but to be honest, I am saddened that Bo baby stooped to such an obvious grade B movie.
Thomas Blasingame
Ghosts Can't Do It Quotes
There are no approved quotes yet for this movie.
Discussion Forum
Discuss Ghosts Can't Do It on our Movie forum!