Gideon's Army
(2013)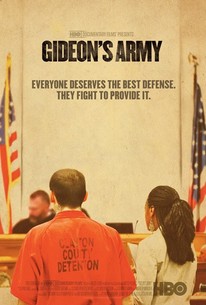 Movie Info
Gideon's Army follows Travis Williams, Brandy Alexander and June Hardwick, three young public defenders who are part of a small group of idealistic lawyers in the Deep South challenging the assumptions that drive a criminal justice system strained to the breaking point. Backed by mentor Jonathan "Rap" Rapping, a charismatic leader who heads the Southern Public Defender Training Center, they struggle against long hours, low pay and staggering caseloads so common that even the most committed often give up in their first year. Nearly 50 years since the landmark Supreme Court ruling Gideon vs. Wainwright that established the right to counsel, can these courageous lawyers revolutionize the way America thinks about indigent defense and make "justice for all" a reality? Official selection 2013 Sundance Film Festival, winner Editing Award: US Documentary. An HBO Documentary Films presentation. Produced by Trilogy Films in association with Motto Pictures with funding provided by the Ford Foundation. (c) Official Site
Critic Reviews for Gideon's Army
Audience Reviews for Gideon's Army
½
A wonderful documentary about a very important topic. Director Nyree Dawn Porter really cares about her subjects, and chooses to give us a human story rather than just focus on the bigger issues. Like any good "true story" the characters are at the forefront, and the issue of the documentary becomes clear as we care about the people involved. It's so much easier to care about an issue when you're emotionally invested in the lives of people who are affected by the issue. This is what Porter does so effectively in Gideon's Army, and it's a film everyone in America should see.
Nathan Martin
An inside look at public defenders. It will give you a newfound respect for these hardworking professionals.
Natalie Metzger
Extremely well produced and directed documentary about public defenders in the Deep South. They have really opened up and you see just why they stay with the job. I was extremely moved.
Tracy Fortenberry
Gideon's Army Quotes
There are no approved quotes yet for this movie.
Discussion Forum
Discuss Gideon's Army on our Movie forum!