Gigantic
(2002)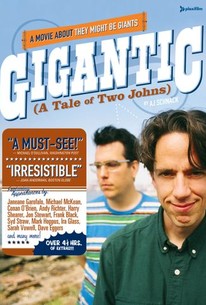 TOMATOMETER
AUDIENCE SCORE
Critic Consensus: A clever, absorbing documentary about They Might Be Giants, a musical duo whose brainy, idiosyncratic brand of pop has earned them decades of cult success.
Movie Info
John Flansburgh and John Linnell are a pair of musicians who met when they were fellow junior-high misfits in the town of Lincoln, MA. Sharing a fondness for off-center pop music and absurdist humor, the pair decided to form a band, and later moved to Brooklyn, NY, in search of their big break. Adopting a rather unusual two-man lineup (guitar and accordion accompanied by a drum machine), the duo began performing as They Might Be Giants, and their shows were part concert, part performance art, and part edgy comedy. Slowly but surely, They Might Be Giants became one of the biggest bands on the alternative rock scene, and while they never threatened to break into the upper reaches of the Billboard charts, they've managed to develop a loyal cult following, and after nearly 20 years together, are still recording and performing their one-of-a-kind songs on their own terms. Gigantic (A Tale of Two Johns) is a documentary which looks at the long and sometimes strange history of They Might Be Giants, featuring extensive interviews with Flansburgh and Linnell; thoughts from fellow musicians Frank Black and Syd Straw; endorsements from noted authors Dave Eggers, Gina Arnold, and Michael Azerrad; and readings of the group's lyrics from actors (and fans) Harry Shearer, Janeane Garofalo, Michael McKean, and Annette O'Toole.
Critic Reviews for Gigantic
Audience Reviews for Gigantic
½
This superb documentary recounts the twenty-year rise of one of rock's greatest duos: They Might Be Giants, in an oddball style as beguiling as the music of the men themselves, John Linnell and John Flansburgh. Clocking in at a 102 minutes and featuring top-notch interviews with the likes of Jon Stewart and Sarah Vowell, plus the duo's avant-goofy videos and concert and tv footage, makes this essential viewing for fan and non-fan alike, especially the duo's rendition of 'Birdhouse In Your Soul' on the Carson-era Tonight Show.
Manny Casillas
A really entertaining and fascinating documentary about a band that makes great music. If you love TMBG, see this doc!
Greg Lassiter
I like to keep my the lore and the faces of my music far away. I could probably name the lead singers of three or four bands; I like music, I just don't 'get into it.' Here, we get an incredibly expansive look into TMBG, but I beg that's there wasn't much to mine in the first place. They exist on the fringe of music, churning out great, albeit weird, music, and they've been doing it since 1982. There's a lot of filler, and people like Michael McKean and Andy Richter stop by to recite lyrics; totally teleprompted. Also, the host of This American Life, Ira Glass, probably just graduated to the spot of my least favorite person ever; awfully irritating, full of himself, and forcing the gay. All in all, I would have rather just listen to some of their music for 100 minutes; nothing I really needed or wanted to find out.
Cory Beaudoin
Gigantic Quotes
There are no approved quotes yet for this movie.
Discussion Forum
Discuss Gigantic on our Movie forum!