Gigola
(2011)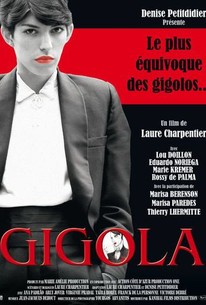 AUDIENCE SCORE
Critic Consensus: No consensus yet.
Movie Info
Author Laure Charpentier adapts her own controversial novel for the big screen to tell the tale of Georgia (Lou Doillon), a woman who dressed like a man, and uses her skills as a siren to rise through the Paris underworld in the 1960s. In the Pigalle district, debauchery reigns, and Georgia (aka Gigola), knows what women want. Her former lover's suicide still fresh in her mind, Gigola seduces with impunity. From beautiful barmaids to lonely aristocrats, no woman is free from Gigola's enchanting spell. In an era when women were thought to be the more submissive of the sexes, one woman takes control of her own fate, and makes her own rules.
Critic Reviews for Gigola
There are no critic reviews yet for Gigola. Keep checking Rotten Tomatoes for updates!
Audience Reviews for Gigola
i was attracted to the movie's poster-art, and i've been in a mood to watch those artsy movies during the summer. fast-moving movies with grand special effects bore me in my present stage. i don't feel like to be distracted anymore when i'm not in school. thus i went to watch gigola, which is blatantly an ideological apparatus of queer liberation through transvestism, which has been a cliched topic since marlene dietrich who brought out the androgynously sensual image of woman in tuxedo in 1930s with her legendary morocco. lou doillon (michael pitt's girlfriend, refuted as the "handsomest" woman model in europe) plays the title role, gigola, who was an emancipated rich girl in 1960s. anyway, gigola vows to become a lesbian gigolo who makes her earning in nightclubs, which philander rich women with good-looking dykes. gigola's lover just committed suicide, and she alleviates her trauma through the bosoms of other women night after night, indulging in binges and sex. until later she feels weary of such debauched lifestyle, she decides to sleep with a really good-looking gangster just to impregnate herself. she wants to know how's like to be a mother bearing a child. this movie just features one soft-core lesbian love-scene after another in a very "essentialist" way. "essentialist" means that they stick to the principles based on gendered performativity, which means that the penetrator and the penetrated. somehow the penetrator only seeks to gratify the penetrated while herself isn't touched at all, and she remains clothed during the act. (i try to be subtle here.) but i must say, they look oddly sexy. lou doillon just looks like young david bowie + jane birkin with fuller, sexier, more kissable lips. all the other actresses featured in the sex scenes are more voluptuous by shape than doillon, but she is still the sexiest one. (kinda odd) honestly, i find the movie's message kinda childish. okay, you wanna escape the confinement of womanhood, then you change your clothes and hair to practice your sense of chivalry as well as dominion over other women as if you were king, and sexually invincible. then you get yourself knocked out just to know the taste of it but you give away your child to your mama just to be free again. it may sound biased but sometimes i just feel lots of european art movies tend to project a naive vision of utopia in disregard of social reality (particularly french). kind of self-indulgently un-realistic. this movie is based on some french female writer's autobiography in 1960s, imagine all those things it tries to express as revolutionary just seem so dated right now. so what makes this movie fun, fashion and lou doillon's peculiar kind of sex appeal. i never could imagine woman could appear so "dashing" in tailored suit, with tomboyish bob-head, plain-chested. but i gotta admit, she has a beautiful face, adorable eyes and a very kissable mouth. if this picture doesn't have her as the lead, it would be a complete bore! in a nutshell, gigola is not about real lesbians but beautified fantasy based on certain lesbian stereotypes.
Veronique Kwak
Super Reviewer
Gigola Quotes
There are no approved quotes yet for this movie.
Discussion Forum
Discuss Gigola on our Movie forum!