Gimme Skelter
(2007)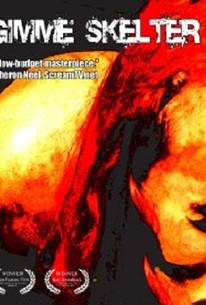 AUDIENCE SCORE
Critic Consensus: No consensus yet.
Movie Info
A man claiming to be Charles Manson's son leads a group of depraved psychopaths in terrorizing a small New Mexico town in this gritty independent horror film starring Gunnar Hansen and Trent Haaga. Now, as the gang splits up into two groups in a competition to kill as many people as possible, the rest of the world remains blissfully unaware that a new generation of Manson followers are determined to bring the teachings of their maniacal master into the new millennium.
Critic Reviews for Gimme Skelter
There are no critic reviews yet for Gimme Skelter. Keep checking Rotten Tomatoes for updates!
Audience Reviews for Gimme Skelter
In Gimme Skelter, the roughly 60-some odd varied (and slightly unusual) residents of a super small New Mexico town are met with terror in the form of a gang of thrill-killers ran by rising genre star Billy Garberina (in a rare straight non-comedic role) who is the illigetimate son of Charles Manson, looking to replicate his terror, but on a more modern level. Before this gang begins slaughtering town members throughout the night, we are introduced to a large array of townsfolk that includes semi-lead Mark Chavez, whose just cheated on his longtime girlfriend with one of the gang members. There's also the great Gunnar Hansen (the original Leatherface) and his real-life niece Kristin Hansen playing father and daughter, as well as rising scream queen Elske McCain who shows who two greatest (and biggest) assets as the town whore (with one hell of a mean streak). Anyways, the group begins their killing, which starts off rather successfully, but grows increasingly harder as the townsfolk get weirder. Special effects guru/director Kenneth J. Hall (Halfway House) makes a cameo appearance as a creepy strip club customer, as well as another rising horror icon Trent Haaga as one of the gang members. Bad acting? Oh you bet. Low Budget? Of course! Overall, Gimme Skelter begins with a bang, delivering a fun opening, but then starts becoming a bit sour until finally picking up and actually delivering a somewhat entertaining ULTRA-low budget film. The cast of rising and underground stars playing such eccentric characters actually manage to make this film entertaining. Lots of nudity helped as well! Overall, a decent surprise.
Jason Duron
A Poorly Thought-Out Killing Spree This is about the lowest-budget movie I've ever seen that didn't actually have puppets in the corner. Not only does the movie only have a MySpace page, not an actual website, but that's pretty much true of the entire list of bands at the end of the movie--bands we are encouraged to patronize, presumably because they let the filmmakers use the music free. Also presumably, Charlie wouldn't let them use his. Or whoever controls his music. I know a lot about the Family, but I don't know who holds controlling rights to Charlie's music. Certainly I don't care enough to look around and find out. At any rate, it doesn't really seem as though anyone who had anything to do with the making of the movie knew half so much about the history of the Family as I, hence the comment about how Charlie said everyone would be equal once the revolution came. Because that's totally what he believed. Oh, where to start. Okay. The movie takes place in this middle-of-nowhere New Mexico town. Population 67. (Yes, places like that exist; the drive to my grandparents' in rural Arizona was full of them.) Our Hero is . . . Todd (Mark Chavez)? Honestly, I have a hard time remembering anyone's name or, indeed, telling half the characters apart. It's that kind of movie. Anyway, Todd stupidly screws some girl herein desginated as Skank #1 against the wall of a supermarket, mysteriously spotted by his girlfriend, Jonda (Jillian Parry). Skank #1 decides to introduce him to her "friends," Skanks # 3 and 3 and Crazy Guys # 1 and 2. Oh, and one Phillip Valentine (Billy Garberina). Phillip yells at Skank #1 for bringing him in, because he will talk. And what he would be able to talk about is the group's plot to kill everyone in the entire town. Or at least as many people in it as they can manage in one night. They manage to kill a few, but the town is tougher than they expect it to be. Phillip says at one point that they should learn from his father's mistakes, but so far as I can tell, they don't. For one, I don't see them tying anyone up first, and even Charlie knew that was a good idea. Oh, right--Phillip is Charlie Manson's son trying to continue his father's work or best it or something. Doesn't matter. No, it really doesn't. The Manson thing is kind of tacked on, really. One of the skanks points out the improbability that young, six-foot Phillip could possibly be at all related to tiny, in-jail-since-forever Charlie Manson. It's also, to me, rather improbable that just being the son of a crazy, crazy killer would necessarily make you a crazy, crazy killer yourself, especially not in the same way that your parent was. And the plan doesn't seem at all . . . planned. "Hey, let's go kill a bunch of people, and then people will have been killed!" There must be more to it than that, but aside from wanting to kill more people than the Family did, I'm not sure I know what. I'm not sure they know what. Okay, it'll be memorable. But what the Family was hoping to do was start a race war. I don't see any indication that these people are, and Phillip expressly forbids any of the weird religious/metaphysical stuff that was the core of the Family. So I don't know. Also, Phillip has really crappy control over his group. Now, if you or I were going to try to kill an entire small town in one night, we'd probably do it with more than a half-dozen people, and we'd probably make sure that those people were devoted to us, willing to do what we asked of them. Phillip's group is constantly fighting, to the point that Skank #2 takes off entirely. So does Crazy Guy #1. They don't work together, and they don't seem to know what's going on. They have the good sense to cut the phone lines and kill the law enforcement officer, but that's about the extent of intelligence they show. They don't seem to know that fighting among themselves is as good away to get them caught or killed as anything else they're doing. It's silly. Oh, also, the filming is terrible. The music is dreadful. I don't even know where to begin once I've gotten past the ridiculous stuff in the plot. The acting is wooden and amateurish, almost as though half the cast doesn't even know what acting is. There's Todd's inexplicable songs at Vonda. (Also, what kind of name is Vonda?) There's the fact that it actually does appear that no one notices what's going on. At very least, I would expect the fact that the phones aren't working to get some notice. Surely someone would go ask to use a neighbour's phone for whatever reason, discover the neighbour's phone is out, and get suspicious, right? Anyway, it's better than the dreadful close-up/freeze frame combo of which horrible, horrible director Scott Phillips (hmmm) is so fond.
Edith Nelson
Gimme Skelter Quotes
There are no approved quotes yet for this movie.
Discussion Forum
Discuss Gimme Skelter on our Movie forum!