Ginger & Rosa
(2013)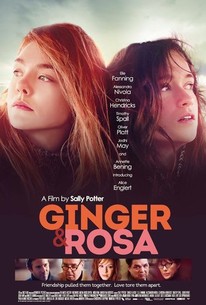 TOMATOMETER
AUDIENCE SCORE
Critic Consensus: Elle Fanning gives a terrific performance in this powerful coming-of-age tale about a pair of teenage girls whose friendship is unnerved by the threat of nuclear war.
Movie Info
London, 1962. Two teenage girls - GINGER & ROSA - are inseparable. They skip school together, talk about love, religion and politics and dream of lives bigger than their mothers' domesticity. But the growing threat of nuclear war casts a shadow over their lives. Ginger (Elle Fanning) is drawn to poetry and protest, while Rosa (Alice Englert) shows Ginger how to smoke cigarettes, kiss boys and pray. Both rebel against their mothers: Rosa's single mum, Anoushka (Jodhi May), and Ginger's frustrated painter mother, Natalie (Christina Hendricks). Meanwhile, Ginger's pacifist father, Roland (Alessandro Nivola) seems a romantic, bohemian figure to the girls. He encourages Ginger's 'Ban-the-Bomb' activism, while Rosa starts to take a very different interest in him. As Ginger's parents fight and fall apart, Ginger finds emotional sanctuary with a gay couple, both named Mark (Timothy Spall and Oliver Platt), and their American friend, the poet Bella (Annette Bening). Finally, as the Cuban Missile Crisis escalates - and it seems the world itself may come to an end - the lifelong friendship of the two girls is shattered. Ginger clutches at one hope; if she can help save the world from extinction, perhaps she too will survive this moment of personal devastation. (c) A24
Rating:
PG-13 (for mature disturbing thematic material involving teen choices - sexuality, drinking, smoking, and for language)
Genre:
Directed By:
Written By:
In Theaters:
On DVD:
Box Office:
$1,005,700.00
Runtime:
Studio:
News & Interviews for Ginger & Rosa
Critic Reviews for Ginger & Rosa
Audience Reviews for Ginger & Rosa
½
A not-so-gentle character study of how two types of love can clash and thoroughly destroy lives more thoroughly than the political & militarily posturing of nations. The differing transformations of the young girls is not unexpected yet still elicits a strong response after a certain point. At real fault is the lone father; convincing himself that he is innocent because he is knows himself and stays true to his convictions. Actually he is a weak ponce with a large vocabulary and a slave to his libedo which pulls him to experience everything, all the while justifying himself through his philosophy of life. Consider him a psychopath with a yet-to-be-realized Cassanova complex. But then all older men merely seem sophisticated. Always a pleasure to see Benning, Spall, or Platt being cast.
Christopher Bergan
Elle Fanning's performance and Sally Potter's beautiful direction and wonderful utilization of 1960s atmosphere allows Ginger & Rosa to become more than the sum of its parts. It's a coming of age story and a period piece all rolled in to one, but more importantly its a character study that miraculously transfers the protagonist's deeply emotional internal tension to the audience with incredible power.
Sam Barnett
Super Reviewer
½
As corny as this may sound, Ginger(Elle Fanning) and Rosa(Alice Englert) are well-nigh impossible to separate since before they were born when their respective mothers(Christina Hendricks & Jodhi May) met in a maternity ward in 1945. Together, they confront their nuclear fears in different ways. Ginger takes to protests and meetings while Rosa finds religion. While Rosa has never really known her father, Ginger has Roland(Alessandro Nivola) as her father, as he prefers to be known to her, when he is not sleeping elsewhere which includes his boat. As Roland puts it, he refused to enter the military during World War II, and was jailed for his beliefs, the worst part being in solitary, but is too self-righteous to wonder why people did not act differently than he did. Ever since her first feature, the classic "Orlando," Sally Potter's films have sadly been a prime case of diminishing returns. With her latest, the evocative, yet flawed "Ginger & Rosa" which moves to its own syncopated rhythm to match the jazz records on the soundtrack, she arrests that trend somewhat by thoughtfully exploring the connection between the personal and the political while not being the first person to conflate nuclear family and nuclear explosions. By having another red-headed protagonist who seeks to be a poet, Potter is saying there is nothing greater to fear than being alone at a time in 1962 when the world was facing nuclear annihilation, which concerned citizens responded with protests in England. Note to self: get a jazz band for the next protest.
Ginger & Rosa Quotes
| | |
| --- | --- |
| Roland: | You do realize that god is an invention ? Every man needs to struggle for his own authority. |
| | |
| --- | --- |
| Roland: | There's a poetry in small spaces, isn't there?confinement can be utterly beautiful , but only if its a matter of choice . |
| Rosa: | What do you mean? |
| Roland: | Well , a prison cell ,on the contrary , is the ugliest expression of minimalism . |
| | |
| --- | --- |
| Ginger: | I loved you Rosa. Don't you see? But we are different, you dream of everlasting love. Not me. Because what really matters is to live. And if we do, there will be nothing to forgive. But I'll forgive you anyway. |
| | |
| --- | --- |
| Ginger: | When we were born, for some it was the end. Now it seems there may not be tomorrow. But despite the horror and the sorrow, I love our world. I want us all to live. |