Gingerdead Man 3: Saturday Night Cleaver
(2011)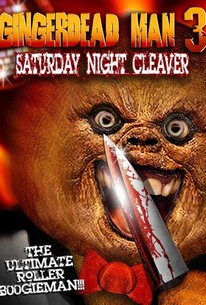 AUDIENCE SCORE
Critic Consensus: No consensus yet.
Gingerdead Man 3: Saturday Night Cleaver Videos
Gingerdead Man 3: Saturday Night Cleaver Photos
Movie Info
The killer cookie travels back in time to 1976, and turns a typical roller derby competition into an all-out bloodbath in this sequel starring Peter Stickles and Robin Sydney.
Critic Reviews for Gingerdead Man 3: Saturday Night Cleaver
All Critics (1) | Fresh (0) | Rotten (1)
I've given up trying to make sense of anything that's happening in this movie series.

Audience Reviews for Gingerdead Man 3: Saturday Night Cleaver
Best of the Gingerdead man film series and that is saying something but it is a fun experience overall. Lots of puns and the plot are copied from elements of other films but it adds its own to make the film unique. This Gingerdead man is actually the best I have ever seen, hes probably better than the Gary Busey one and that is saying something. He kills a lot while also giving funny puns which make the film better because of it. Still the acting is mediocre and the effects are the same but the company is known for these effects so it doesnt matter. A good film to watch to get the overall idea of this maniac. Watch this and the first, but stay away from the second, please. That was just horrible
Hector Jimenez
It may make viewers laugh in a scene or two,...maybe. This better than average low budget production still has practically no plot, transparent characters and poorly executed kill scenes. For my full review of Gingerdead Man 3: Saturday Night Clever (2011), check it out on this IMDB link: http://www.imdb.com/title/tt1293561/reviews-13
Nick Salvemini
Your wondering why i've even bother to review this movie if I hated the first two, it because I have a rule when it comes to reviewing every movie in a franchise. Unfortunately, this is also the worst, and I mean the worst franchise horror franchise i've ever seen. The story is, and i'm making this up, after the Gingerdead Man escaped from jail, he finds himself in a time machine headed for 1976. He arrives in the middle of a roller-boogie contest? but the uninteresting party is just getting started for the infamous cookie killer. After taking in the sights of the beautiful roller girls, Gingerdead gets back to his old murderous ways, causing more boring bloody mayhem than ever before with some poorly done humor. Just like the first two, the acting is horrible. To be honest, it's like watching Epic Movie, it's just reference after reference and it gets old way to fast. Bad dialogue, bad acting, bad CGI, unbearable story, poorly filmed, cheesy jokes, poor production value, and I could keep listing on what else sucks about this movie, but you get the point. The Gingerdead Man franchise is one of the most baffling franchise in horror history and I had the displeasure of watching every second of it. These are, without a doubt, the worst horror horror franchise ever made.
Caesar Mendez
Super Reviewer
Gingerdead Man 3: Saturday Night Cleaver Quotes
There are no approved quotes yet for this movie.
Discussion Forum
Discuss Gingerdead Man 3: Saturday Night Cleaver on our Movie forum!