Girl On A Bicycle
(2014)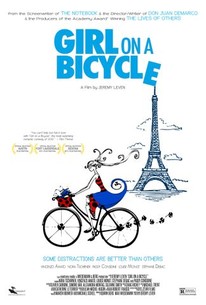 Movie Info
Paolo (Vincenzo Amato), an Italian who drives a Paris tour bus, has just proposed to his true love, the German stewardess, Greta (Nora Tschirner), when the young French beauty, Cécile (Louise Monot) pulls up beside his bus on her bicycle - and, in short order, Paolo, following some very bad advice from his friend, Derek (Paddy Considine), finds himself with a German fiancée, a French "wife", two Australian children who call him "Papa", and his life upside-down. (c) Monterey Media
News & Interviews for Girl On A Bicycle
Critic Reviews for Girl On A Bicycle
Audience Reviews for Girl On A Bicycle
½
"Girl on a Bicycle" is a cute international romantic comedy that strikes a good balance between situational comedy and cheesy romantic moments. The story is formulaic but I was legitimately interested to see how the it would resolve itself. Even with a musical score that you might expect from a Lifetime Original Movie, the film's quality supersedes that of a typical low-budget indie film. I wouldn't hand out any Oscars to these leads, but I greatly enjoyed the performances of Nora Tschirner, Vincenzo Amato, and Louise Monot. They formed impressive chemistry with one another and individually brought a lot of gumption to their characters. Also, if you enjoy accents, then this is the movie for you! The setting captures the essence of Paris and the decision to have a French, German, and Italian lead speaking in their native tongue and accent makes the film unique. There are some eye-rolling moments and much of the story is unrealistic; still, it is all worth it for that scene on the airplane where Tschirner steals out hearts. "Girl on a Bicycle" isn't my favorite chick flick (in fact, it probably belongs in the "guilty pleasure" genre) but it provides a nice break from the next flavor-of-the-month Nicholas Sparks adaptation.
Jonny Priano
You know, it nice to know that Americans aren't the only ones capable of making abysmally moronic romantic comedies, but I'm not sure it was worth sitting through this horror of a movie to find out. Internationally casted The Girl On A Bicycle is about an Italian man named Paolo, engaged to a German Women, working in Paris as a tour bus driver. While driving his tour bus he spys a french women on a bicycle and becomes obsessed with her, to the irritation of his fiancee. The Women On A Bicycle is not only unfunny, utterly lacking in charm, contrived, predictable, unromantic, and without any chemistry between it's leads, but it's also unintentionally very creepy. Paolo's initial obsession with the title character is disturbing and causes him to put himself and other people in danger, and the way he finally worms his way into the her life is actually illegal. The actions of this man would land him in jail in the real world. And yet at no point do any of the characters actually react to this like logical human beings with who think rationally. The characters are cliches and have no chemistry with each other, acting like strangers instead of couples. The very title character, who'd you expect to be the lead, is given no development at all. It is also almost completely unfunny throughout the entire thing. The only one who is able to elevate the proceedings a little is Paddy Considine, and even he doesn't seem to trying. The Girl On The Bicycle is an absolutely terrible film that even Rom-com fans may find hard to stomach.
Mason Burruss
½
This had a great assortment of characters with a perfect ending. It was a bit slow, but overall worth a watch.
Heather Metzger
Girl On A Bicycle Quotes
There are no approved quotes yet for this movie.
Discussion Forum
Discuss Girl On A Bicycle on our Movie forum!