Girl Slaves of Morgana Le Fay
(1971)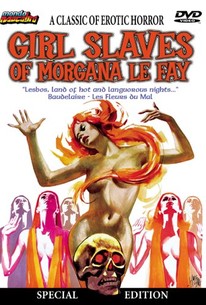 AUDIENCE SCORE
Critic Consensus: No consensus yet.
Movie Info
A summer drive through the French countryside turns into a sun-soaked nightmare when the queen of witches comes to collect the souls of two young travelers in director Bruno Gantillon's erotic tale of terror. For centuries, mythical queen witch Morgana has used the magic taught to her by legendary wizard Merlin to collect the souls of the innocent and maintain her immortality. While those who agree to her conditions are granted eternal youth and beauty, those who deny her unearthly pact are cursed with hideous disfigurement and locked deep in the confines of her inescapable dungeon. When beautiful young travelers Anna and Francoise unintentionally wander into Morgana's kingdom, their fate is forever sealed in the dark halls of her labyrinthine castle.
Rating:
NR
Genre:
, ,
Directed By:
In Theaters:
On DVD:
Runtime:
Critic Reviews for Girl Slaves of Morgana Le Fay
There are no critic reviews yet for Girl Slaves of Morgana Le Fay. Keep checking Rotten Tomatoes for updates!
Audience Reviews for Girl Slaves of Morgana Le Fay
Thank you, Bruno Gantillon, for finally proving to me that lesbians had incredibly dull sex in the early 70s. So boring was it, in fact, that they would appear to have frequently fallen asleep in the middle of it. Either that or broken into awkward interpretive dance while dressed in flowing, fluorescent, diaphanous gowns that probably caused a lot of stumbling and twisted ankles. Pity the poor, hobbling, half-asleep French lesbians of 1971! Not only did they have all this to contend with, they were also plagued by a rather hermaphroditic hunchbacked dwarf with an unusual fondness for crushed velvet coats and pink leggings. Ah well, at least they didn't need to carry a plot or memorize any vaguely interesting dialogue. In act, on several occasions I was quite sure I could hear the wind whistling straight through the ears of the vapid, entirely clueless lead actress. Nothing very interesting happens, unless you're excited by wooden acting, corny scripting and some of the most giggle-inducing choreography ever performed by ennui-riddled French lesbians in gauze. Did I mention the tedious lesbians? Oh, yeah, I did. The best thing about this one: no sequel. It's all a dream... which makes sense, since everyone involved was asleep. You will be, too.
Brian Seitzman
½
After stopping for a bout of lesbian sex, two beautiful young girls stumble upon the castle of the witchlike Morgan, who, in exchange for their souls, offers them eternal youth, luxury, and all the lesbian sex they can fit into a day. Shot in an actual castle, with diaphanous gowns, readings from Baudelaire and other decadent trappings, it's perfect for the lesbian sex fetishist who likes a little art with his/her lesbian sex.
½
Actually better than expected. A few ?s, but overall, Arthurian refences, myth, magic, social commentary and lesbians...I can dig it.
Rick LeBlanc
Girl Slaves of Morgana Le Fay Quotes
There are no approved quotes yet for this movie.
Discussion Forum
Discuss Girl Slaves of Morgana Le Fay on our Movie forum!