Girl with Green Eyes
(1964)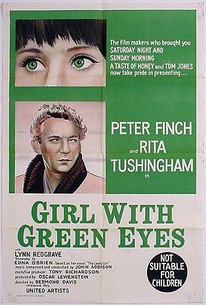 AUDIENCE SCORE
Critic Consensus: No consensus yet.
Movie Info
Rita Tushingham was propelled into stardom with The Girl with Green Eyes. She plays a gawky young rural Irish girl who takes a room with a wise-cracking Dublin lass (Lynn Redgrave). Enter a middle-aged writer (Peter Finch), who makes a beeline for the shy, lonely Tushingham--completely ignoring her more worldly roommate. Girl with Green Eyes was liberally based upon Edna O'Brien's novella The Lonely Girl. With this one film, Rita Tushingham not only became bankable, but also what is known as a "critic's darling", meaning that she could do no wrong in the eyes of certain male reviewers. The bloom was off the rose fairly quickly, and soon Ms. Tushingham found herself contractually committed to one second-string project after another, including an ill-advised reteaming with actress Lynn Redgrave and director Desmond Davis in the resistible Smashing Time (67). ~ Hal Erickson, Rovi
Critic Reviews for Girl with Green Eyes
There are no critic reviews yet for Girl with Green Eyes. Keep checking Rotten Tomatoes for updates!
Audience Reviews for Girl with Green Eyes
another of the UK's 'angry young men' films but with a twist this time it's an angry young woman, the gr8 Rita Tushingham.
Greg Wood
"Girl with Green Eyes" doesn't quite qualify as one of Britain's "kitchen sink" films -- it's closer to a traditional romance. Yes, it's in black and white, but it would have been more affecting in color. Certainly, the title would have been better served. The story opens with buddies Kate (Rita Tushingham) and Baba (Lynn Redgrave) giggling around the city, but this is just exposition. What matters are their chance encounters with Eugene (Peter Finch), a well-off, handsome writer who's freshly separated from his wife. Kate is immediately infatuated with him, and an unlikely love grows between them. Emphasize "unlikely," because he is twice her age and the two actors have little chemistry. Baba has no problem with Eugene, but everyone else does. Kate's boorish Irish-Catholic family is furious, and Eugene's sophisticated friends look down upon Kate in return. Meanwhile, Eugene's estranged wife and daughter never appear on camera but remain prominent in his thoughts. Can the relationship survive these obstacles? Perhaps we should ask the melancholy oboist who dominates the score. The story eventually verges on soap opera, but this is a nice little movie. But director Desmond Davis must have realized Redgrave was a more interesting partner for Tushingham than Finch, because he reunited the gals in "Smashing Time" three years later.
Eric Broome
Super Reviewer
½
Compare this to the present An Education. Its the same thing, only 60 years earlier. What a rip off by Education. Adored Rita in this film, but the fast talking Redgrave and locals weren't always easy to understand. The camera work and dialog wasn't always smooth and reminded me of A Hard Days Night, another black and white sixties film. This is, at least to me, an improbable story about a girl interested in a mature older man twice her age. He's divorced and she lives in Dublin with a girlfriend, living in their apartment and speaking that Irish accent that sounds like leprichons. I swear, I could not understand most of the dialog in the film. You don't know how she got off the farm away from her folks, but supposedly to go to a parochial school. Although presented initially as a shy and introverted person, she becomes the opposite around her room mate and this man. While I looked forward to seeing this film, I could not make it to the end without stopping it and doing something else. It did not hold my attention even though I much about it, primarily the actors. Why or how can this be? I do not know. It is something about the sound I think. I noticed that it appeared that the voices were dubbed. The actors speaking usually seemed disembodied. I have witnessed this phenomena before and it is always disconcerting. It's as if there were no microphones on set. The whole relationship and therefore the plot is a reach. I could only hope for a girl half my age being interested in me. I onced dated a girl a two-thirds my age and after a month found her unbearable and silly. This relationship was doomed from the start, unfortunately, but it started so wonderfully. A coming of age movie in black and white and regretfully became hard to watch as every minute passed by. Peter Finch, as the older man, is as good as he ever was in this one.
monsieur rick
Girl with Green Eyes Quotes
There are no approved quotes yet for this movie.
Discussion Forum
Discuss Girl with Green Eyes on our Movie forum!