Gishiki (The Ceremony)
(1971)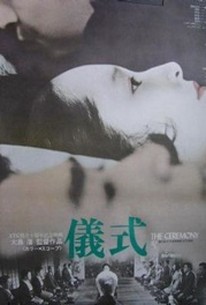 AUDIENCE SCORE
Critic Consensus: No consensus yet.
Movie Info
This well-known film by auteur director Nagisa Oshima offers a humorous and trenchant commentary on trends in Japanese society. Looking through the eyes of a younger son in a lesser branch of an important Japanese family, we see simultaneously the boy's history, the family's history and the history of Japan. This is done by showing important family ceremonies over the years: anniversaries, weddings, funerals, etc. Various factions in the family, which reflect the factions in Japanese society, struggle for superiority. Viewers of this film will find their enjoyment enriched if they have some knowledge of recent Japanese history . ~ Clarke Fountain, Rovi
Critic Reviews for Gishiki (The Ceremony)
Audience Reviews for Gishiki (The Ceremony)
½
Remember "Four Weddings and a Funeral"? Well, this one is closer to "Four Funerals and a Wedding." But there are no laughs in this Nagisa Oshima-directed saga -- it's an unusually bleak, ponderous tale that will wear out many viewers before its 122 minutes grind to a close. Both literally and metaphorically, "The Ceremony" chronicles the death of a family. The characters span three generations. The Sakuradas are a wealthy, powerful clan led by patriarch Kazuomi (Kei Sato, a veteran of several Oshima films). He's a demanding, cold-hearted monster who treats men like soldiers and women like prostitutes. However, the main story revolves around four of his descendants. Cousins Masuo and Terumichi both covet their pretty cousin Ritsuko. Except they also indulge desire for her teasing, passive-aggressive mother Setsuko. Every permutation of these players seems doomed. Infidelities and incest so dominate the family's history that, by the end of the movie, properly labeling the blood relationships between various Sakuradas is a chore. Meanwhile, the generational struggles mirror the broader, post-WWII clash between new and old Japan. Political material is mostly channeled through Kazuomi, a Communist-leaning uncle and another cousin named Tadashi (whose father had been a war criminal imprisoned in China). As the years pass, relationships fracture while multiple characters spiral down to an exhausted, unpleasant demise. Comparisons to the debased clans of "The Godfather" and "One Hundred Years of Solitude" are appropriate, especially since both novels were freshly popular at the turn of the '70s. The Sakuradas' story is told via a series of flashbacks, as Masuo and Ritsuko journey in the present day to discover the fate of Terumichi. The past segments (backtracking as far as 1947) revisit formal family gatherings where stiff, traditional rituals reflect the participants' inner emptiness. The extreme case is a climactic wedding where Masuo is forced to slog through a ridiculous, pantomime service because the bride is absent. Oshima's stolid direction strips away most of his late-'60s experimentation, beyond the script's episodic structure and one quick use of superimposed text. In fact, he consciously avoids avant-garde trickery -- many of his shots are notably prolonged and static. And one defiant touch is a minus: The score's sparse, dissonant violins are practically the stereotype of artsy-fartsy, foreign-film tedium. And while we're discussing music, let's not overlook that the movie also includes a scene showing Oshima's dire fetish for stilted drinking songs that, rest assured, do not transcend cultural boundaries. "The Ceremony" is not easy to enjoy. I myself restarted it after watching the first half, feeling like I had lost the plot. The "action" rarely goes beyond intense, claustrophobic conversations. The character names are difficult to keep straight and, if you're about to watch the film, I suggest re-reading the above introductions again. But if properly prepared, the patient viewer will be rewarded.
Eric Broome
Super Reviewer
Gishiki (The Ceremony) Quotes
There are no approved quotes yet for this movie.