Give Up Tomorrow
(2011)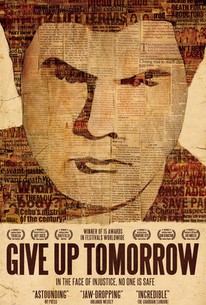 Movie Info
The harrowing story of Paco Larrañaga, a young man falsely accused of the murder of two Chinese-Filipino girls. Despite being surrounded by dozens of witnesses, Paco is taken into custody and faced with the possibility of a death sentence. A nationwide media frenzy descends upon his imprisonment, and even though he was on Manila island hundreds of miles away from the murders, Paco is blamed. Coming from a traditional powerful race and caste of Filipino society, Paco plays the much sought-after role of villain. With two groups of class and race profiled as victims and perpetrators and the media speculating on print daily, the case sees an unprecedented amount of extra-judicial attention. No matter how hard Paco fights, and how the victims' families fight, the media circus will not back down and the country is gripped. In a mix of journalism and back-door politics, Give Up Tomorrow examines the corrupt and unimaginable Filipino legislative system. Paco's landmark case may have changed the laws on capital punishment, but he is still incarcerated for life. With interviews from the families of the victims and the Larrañaga family itself, to journalist, drug dealers, and police officers, Give Up Tomorrow offers an unseen glimpse into the surreal world of the Philippines' crime and punishment.
Critic Reviews for Give Up Tomorrow
Audience Reviews for Give Up Tomorrow
An unbelievable and revolting real story about an absurdly horrendous injustice suffered by a young man who has been trying to win a fight for over fifteen years now against powerful people who wanted to see him executed despite every indisputable evidence of his innocence.
Carlos Magalhães
Super Reviewer
½
By far the greatest miscarriage of justice I have heard of in any country even approximating a democracy. A man in the Philippines is falsely accused and convicted of a crime that he not only did not commit, but was absolutely impossible for him to commit. Not only did he have dozens of witnesses, photographs, two proctored exams, and a security guard's sign-in sheet proving he was in Manila and therefore 320 miles away from the crime in Cebu, the prosecution had no motive, physical evidence, and may have even misidentified the body. After he was imprisoned for over a year the police present testimony from a career criminal that was extracted under torture and with total immunity and a cash payment. The judge, among other things, not only denied defense attorneys the ability to cross-examine the witness but imprisoned them all for contempt. When the life sentence was appealed to the Supreme Court, the only miscarriage of justice they could find was that he did not receive the death penalty, which they immediately remedied by imposing. An absolutely astounding combination of corruption and incompetence.
Roy Smith
Give Up Tomorrow Quotes
There are no approved quotes yet for this movie.
Discussion Forum
Discuss Give Up Tomorrow on our Movie forum!