The Glass Key
(1942)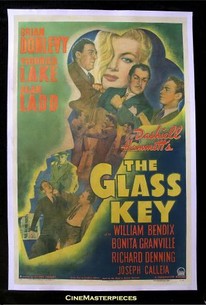 Movie Info
Dashiel Hammett's The Glass Key, a tale of big-city political corruption, was first filmed in 1935, with Edward Arnold as a duplicitous political boss and George Raft as his loyal lieutenant. This 1942 remake improves on the original, especially in replacing the stolid Raft with the charismatic Alan Ladd. Brian Donlevy essays the role of the boss, who is determined to back reform candidate Moroni Olsen, despite Ladd's gut feeling that this move is a mistake. Ladd knows that Donlevy is doing a political about-face merely to get in solid with Olsen's pretty daughter Veronica Lake. It is Ladd who is left to clean up the mess when crime lord Joseph Calleila murders Olsen's wastrel son Richard Denning and pins the rap on Donlevy. As Ladd struggles to clear Donlevy's name, he falls in love with Lake--when he's not being pummeled about by Calleila's psychopathic henchman William Bendix. Far less complex than the Dashiel Hammett original (and far less damning of the American political system), The Glass Key further increased the box-office pull of Paramount's new team of Alan Ladd and Veronica Lake.
News & Interviews for The Glass Key
Critic Reviews for The Glass Key
All Critics (7) | Fresh (6) | Rotten (1)

Ozus' World Movie Reviews
First-rate noir thriller.
December 1, 2002 | Rating: 4/5

Mountain Xpress (Asheville, NC)
Audience Reviews for The Glass Key
Not as good as This Gun for Hire but a solid crime drama with the Lake/Ladd pairing as potent as ever.
½
A political wheeler dealer with ties to organized crime falls for the daughter of a reformist politician but when her brother is murdered, the blame seems to fall squarely upon him. The Glass Key doesn't really fit wholly into the pigeon hole of Film Noir, but its no nonsense, tough guy approach and sharp dialogue will certainly appeal to its fans. The centrepiece of the film is the relationship between Brian Donlevy and Alan Ladd as his trusted sidekick and their great chemistry was obviously a big influence on the Coen brothers when they made Miller's Crossing. Veronica Lake also shines as the gorgeous debutante and although it lacks the cynicism of my favourite Noirs, it has a really nice "feel" to it. The biggest flaw is in the plot which was clearly simplified for the screen leaving the mystery aspect a little lacking, but the execution is great.
Brian Donlevy's crooked, McGinty-ish politician angers a criminal associate (Joseph Calleia, effortlessly sinister) by pledging his support for a reform candidate whose beautiful daughter he has taken a fancy to. Murder, political chicanery and a smouldering love-hate relationship between the would-be governor's daughter (Veronica Lake) and Donlevy's right-hand man (Alan Ladd) ensue. The Glass Key falls a little short of being one of the true classics of film noir. Tonally, I found it rather peculiar and the ending was one of the corniest I've seen for a long time. In general, the movie is several shades lighter than pure noir, although there are a couple of extraordinarily perverse moments that really do hit the spot, not least the sadomasochistic beating Ladd receives from one of Calleia's goons. In one of the other darker scenes, Ladd prevents a hostile newspaper editor from running a defamatory story about Donlevy by canoodling with the guy's trophy wife until he commits suicide. It's fair to say that Ladd was not ideally suited to this sort of material, but the film contrasts the benignity of his features with the ruthlessness of his character's actions to excellent effect.
The Glass Key Quotes
There are no approved quotes yet for this movie.
Discussion Forum
Discuss The Glass Key on our Movie forum!