Gleason
(2002)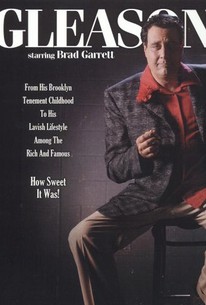 AUDIENCE SCORE
Critic Consensus: No consensus yet.
Movie Info
Everybody Loves Raymond co-star Brad Garrett brings "The Great One" to life in this made-for-TV biography of video icon Jackie Gleason. The product of a fractious Brooklyn childhood, capped by the abrupt desertion of his ne'er-do-well father, Gleason launches his show business career with the motto "Never depend on anyone." Yet because of his multitude of insecurities, he demands total loyalty and 100-percent devotion from everyone around him. Trouble is, he has no loyalty or devotion to give in return: Dedicated to his career, his drinking, and his womanizing (not always in that order), Jackie neglects his wife Gen (Gretchen Egolf) and his children, tyrannizes his associates in general and his faithful agent George "Bullets" Durgom (Saul Rubinek) in particular, and shamelessly steals other people's ideas and comedy material, claiming it exclusively as his own. For all his bluster and bullying, Gleason remains likable and arguably even lovable -- just like his most famous TV character, Brooklyn bus driver Ralph Kramden (indeed, the script suggests that Gleason was Kramden and Kramden was Gleason -- and that Jackie was envious of Ralph's ability to "make things up" to his long-suffering wife Alice at the end of each Honeymooners sketch). The film is at its best in its re-creations of Gleason's stage and TV triumphs, though one could nitpick about the hazy and often downright inaccurate chronology of events. As the title character, Brad Garrett offers an uncannily on-target portrayal, despite the fact that the 6'8" actor was nearly a foot taller than the real Gleason (this discrepancy was amply compensated for by the clever camera angles of cinematographer Neil Roach, not to mention the elevator shoes worn by practically every other member of the cast). Of the supporting players, Gretchen Egolf and Terry Farrell are superb as Jackie's first and second wives respectively, while Michael Chieffo's portrayal of Art Carney is eerily perfect. Co-written by Michael Preminger and Rick Podell, the same team responsible for Jackie Gleason's final theatrical feature Nothing in Common, Gleason made its CBS network debut on October 13, 2002.
Rating:
NR
Genre:
,
Directed By:
Written By:
In Theaters:
On DVD:
Runtime:
Studio:
RHI Entertainment
Critic Reviews for Gleason
There are no critic reviews yet for Gleason. Keep checking Rotten Tomatoes for updates!
Audience Reviews for Gleason
Twenty minutes in, the viewer will barely realize he/she is watching Brad Garrett and not "The Great One" himself. Voice, gestures, facial expressions - it's all just amazingly spot-on. Sadly this unique, talented delivery is wasted on a hack script that bypasses the majority of Gleason's accomplishments, backstory and distinctive persona. A biopic of Gleason ought be interesting - and it is, at least, whenever Garrett is channeling Gleason. Garrett, seemingly effortlessly, grips Gleason's stage persona directly by the horns, tapping deep into factual shtick and comic material to revive classic Gleason characterizations from Ralph Kramden to Reginald Van Gleason III. And Garrett does just as well recreating Gleason the man - his swagger, witty quips and confidence. The film bookends with snippits of Garrett/Gleason being interviewed as he looks back over his career - snippits actually culled from a famous "60 Minutes" interview. Unfortunately, the scriptwriters had no sense of purpose, direction - or sense of Gleason - once forced to veer past Gleason's most iconic media content. They needlessly and excessively dwell on relative minutia such as the desertion of Gleason's father, marital squabbles, Jackie's fondness for taking a snort, and other such pulp. Such dwelling misses the mark wide. Example: Nothing said of Gleason's actual composing of the trumpet-dominated theme songs for both "The Jackie Gleason Show" ("Melancholy Serenade") and "The Honeymoons" ("You're My Greatest Love"). Gleason penned forty albums of similar 1950ish lush mood-music instrumentals, selling 120 million copies, even though he could not read/write music. Rather, he dictated it all to a composer, one note at a time. Another example: Nothing said of Gleason's stellar delivery as Minnesota Fats in "The Hustler" (1961). RECOMMENDATION: Despite the poor writing, for the excellent portrayal by Garrett, well spent viewing.
TonyPolito Polito
Gleason Quotes
There are no approved quotes yet for this movie.