The Glenn Miller Story
(1953)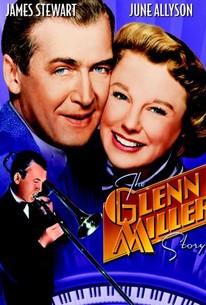 Movie Info
Not only was The Glenn Miller Story one of the most profitable biopics ever filmed, but it also was one of the few to pay more than lip service to the facts. The film traces Miller's rise from pit-orchestra trombone player to leader of a successful big band.
Rating:
G
Genre:
, ,
Directed By:
Written By:
In Theaters:
On DVD:
Runtime:
Studio:
Universal Pictures
Critic Reviews for The Glenn Miller Story
Audience Reviews for The Glenn Miller Story
Spoiler alert: Glenn Miller was shot down while serving for the U.S. military during World War 2. That's right, fighting Adolf Hitler. A very popular musician killed while fighting the Antichrist. So this film is less historical, more of a memorial. Some parts are downright sanctimonious, cleaned and sanitized and ironed and starched past all recognition of real life and done, mind you, for your protection in that Hollywood way (lest dat jive starta discombobulate ya). The story could be easily dismissed as bad high school quality theater, despite the talent in front of you. But then they play the music, and the sense of the times and the people who lived them comes rushing to the fore, a palpable force. "The music will live forever" is said at the end, and that part they got right.
Kevin M. Williams
Super Reviewer
Wow, this could very well be the greatest biopic of all time. Combine the acting talents of Jimmy Stewart with the amazing music of Glenn Miller and you simply cannot go wrong. At times it is difficult to believe that these events actually transpired, and yet that's what makes it such a beautiful story. It is inspirational to see the man who wanted to create a "new sound," but even more so to see his wife pushing him to pursue greater things because she believed in him. If you are familiar with Miller's music, you will get chills down your spine every time that you see him composing the classics that we love so much and seeing the inspiration behind each song. I love Henry Mancini's variations on Miller's greatest hits to craft a beautiful soundtrack to this film. The song "Little Brown Jug" means so much more to me after seeing this film and it will to you once you've seen it, as well.
Jonny Priano
miller's amazing music is reason enuf 2c this bio-pic directed by anthony mann-what! the best thing 4 me is they use the my old santa monica pier which stands in 4 the gone venice pier and the old airs flight in downtown la.
Greg Wood
The Glenn Miller Story Quotes
There are no approved quotes yet for this movie.