Gloomy Sunday
(2003)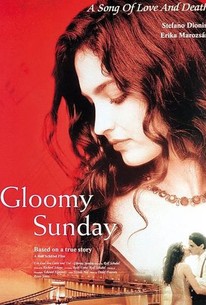 Movie Info
Rolf Schuebel makes his directorial debut with this subtly-told true story about one the 1930s' most memorable melodies. Set just prior to WWII, the film focuses on Hungarian beauty Ilona (Erika Marozsan) and her significant other Laszlo Szabo (Joachim Krol), a dapper owner of Budapest's finest restaurant. Though Ilona is known for her prowess on the piano, the two decide to hire a professional as the finishing touch on their classy establishment. They hire Andras (Stefano Dionisi), a taciturn man with a certain mysterious charm. Meanwhile, regular customer and German businessman Hans (Ben Becker) finds himself utterly and completely smitten with the vivacious Ilona. When she spurns his advances, he drunkenly jumps into the Danube. Laszlo manages to rescue him and the three grow to become close friends. At the same time, Andras and Ilona grow to be something more than friends, and -- with the knowledge and approval of Laszlo -- they become lovers. Later, Andras composes a tune dedicated to his new consort and Laszlo quietly arranges for a couple of Austrian record execs to come to the restaurant to listen. Oozing with jaded ennui, the song, sans lyrics, quickly becomes an international success, yet it also seems to cast a dark spell over listeners -- people cannot help but commit suicide. In Hungary alone, 157 people killed themselves in the span of eight weeks. At the same time, the Third Reich marches into Austria. As the film progresses, Hans returns to Budapest, this time as an SS officer. There he offers Laszlo, who is Jewish, and who offers him free passage in exchange for money. This film was screened at the 2000 Berlin Film Festival.
Critic Reviews for Gloomy Sunday
Audience Reviews for Gloomy Sunday
½
The story about the song is absurd, the menage-a-trois is not sexy, but the atmosphere is nice and you cant take yours eyes off Erika Marozsan..she is just gorgeous. A little slow, though, and a little uneventful. Really good ending, however, which almost makes me forgive the rest.
Cynthia S.
Super Reviewer
½
Seeing its high rating and believing it to be factual, I pounced upon it. But no sooner did the movie begin I found the proceedings to be too good to be true. And so it obviously was. The factual events are finely woven in this drama. I'd have enjoyed it more had it been without certain scenes. But having seen it, I guess they were necessary, or at least some of them. But I can't have everything my way. Putting that aside, the movie takes a dull start, but gets its grip firm as it advances, then takes a nap, then again becomes interesting,... and so on and forth. This tale of love, lies and betrayal is full of highs and lows. Predictable as it stands, it's interesting nevertheless. In fact, it's so great that (happened to encounter in Trivia section) it's been running daily since 2001 (till at least 10.30.2011 when this was written if the facts were factual!!!) at the Academy Arts Centre Theatre in Christchurch, New Zealand (so what if it's an accommodating 11 seat theater?). Surely worth a watch... and a gloomy Sunday may help more ;-)
familiar stranger
Super Reviewer
½
As lovely and haunting as the song...
Stefanie C
Super Reviewer
Gloomy Sunday Quotes
There are no approved quotes yet for this movie.