Go Tell the Spartans
(1978)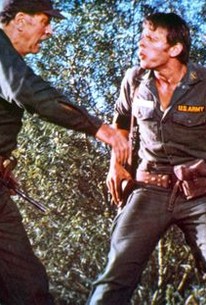 AUDIENCE SCORE
Critic Consensus: No consensus yet.
Go Tell the Spartans Photos
Movie Info
This film is set in Vietnam during that period in which American troops were euphemistically termed "advisors." Reluctantly dispensing much of that advice is veteran American major Asa Barker. Barker is obliged to carry out the go-nowhere policies of the American military brass.
Critic Reviews for Go Tell the Spartans
All Critics (4) | Top Critics (1) | Fresh (2) | Rotten (2)
Go Tell the Spartans is a competent war film, to be sure, but there's no directorial commitment, no vision.

This is a solid and memorable film about American military involvement in Vietnam.

Spirituality and Practice
Audience Reviews for Go Tell the Spartans
½
A classic war movie about one of the opening moments of the Vietnam War in 1964 when it was still considered a "conflict". Based on the novel inspired by actual events "Incident at Muc Wa" by Daniel Ford, a journalist who wanted to become the Ernie Pyle of Vietnam. And Burt Lancaster's performance as Major Barker was a memorable one.
War Related
This was the first movie Hollywood made about the Viet Nam War after John Wayne's "The Green Berets". It's set just before Johnson's reelection in 1964. It shows the problems the U.S. had in fighting the war. It's low budget and they tried to use the weapons, equipment and uniforms that were used in 1964. It's about the quality of a made for TV movie. Some of the extras didn't look very Vietnamese and their hair was too long and some had mustaches. I don't think there were very many soldiers with mustaches in 1964. It got an R rating due to the language and violence, no nudity. It is a war movie though. It's a pretty good movie. I first saw this movie in Stillwater, OK in what had been the old Aggie Theater but had been converted into a twin theater. When I got to the theater I ran into a couple of guys from my dorm floor. Turns out the one I thought was just some hippy dude about my age had actually been to Viet Nam and was an ex-Marine and was three years older than me. We all enjoyed the movie and then we went to a beer joint and talked for a while. The best line in the movie was "Nobody drives slow in this country."
Donald White
Best film ever made on the Vietnam war with an excellent performance by Burt Lancaster. Go Tell the Spartans is undeservedly obscure and it has been overshadowed by more popular movies which came out around the same time. The film is very realist in its depiction of events. While not picking sides or playing politics, the movie shows the circularity of the war and how it was fought entirely the wrong way. It is titled after the epitaph following the Battle of Thermopylae. "Go tell the Spartans, stranger passing by, that here obedient to their laws we lie."
Zach Elfers
Go Tell the Spartans Quotes
There are no approved quotes yet for this movie.
Discussion Forum
Discuss Go Tell the Spartans on our Movie forum!