Go With Le Flo
(2014)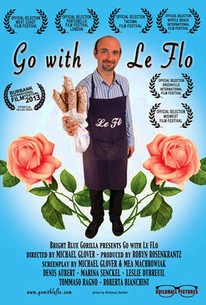 AUDIENCE SCORE
Critic Consensus: No consensus yet.
Movie Info
How do you find true love? Go With Le Flo! Florian is half-German, half-French and owns "Le Flo" - a French delicatessen in Berlin that specializes in salami. When he meets Camille, the daughter of a French director, it's love at first sight. Florian is going to ask her to marry him, but doesn't know she's already engaged to a movie star. Florian's best friend, Jenny, is German and owns a bakery just down the street. She's in love with him but doesn't know how to tell him. Go With Le Flo explores what true love is, with plenty of twists and turns (some on a Vespa), and lots of salami! (C) Official Site
Rating:
NR
Genre:
,
Directed By:
Written By:
In Theaters:
Runtime:
Critic Reviews for Go With Le Flo
All Critics (1) | Top Critics (1) | Fresh (0) | Rotten (1)
Countless movies are funnier, cuter, livelier and smarter than "Go With Le Flo," but few match this proudly cheapo dud's near-contemptuous lack of thoughtfulness and entertainment value.
Los Angeles Times
Top Critic
Audience Reviews for Go With Le Flo
Go with Le Flo is a charming, eclectic romantic comedy, a generous collaboration by filmmakers Michael Glover and Robyn RosenKrantz with the assistance of many talented friends. I adored this film and am very excited to share my views. The story with its picturesque locations including a Parisian style shop in Berlin - "Le Flo" - is delightful. It was filmed entirely in Berlin and stars actors Denis Aubert and Marina Senckel. The French actress Leslie Dubreuil added a refreshing interpretation that was enjoyable to see - like Cameron Diaz in "Something about Mary". A fun film, Go with Le Flo is full of vigor and laughter that might also draw tears near the films end. A film for the discerning mind. I especially enjoyed scenes in the bakery between Gabi and Jenny, Florian on his scooter and the action that leads up to the big finale. There are many great moments worth mentioning - I just can't list them all. Special kudos to Bright Blue Gorilla for their original film scoring that was simply beautiful. Good filmmaking like Go with Le Flo is necessary to humanity. Thank you to the crew, film executives and actors for a job well done. SKC July 30, 2014.
Sharon Collins
This is a pleasant romantic comedy. I found myself smiling almost the entire movie and laughing out loud a few times. There's an atmosphere that pervades the film that I couldn't put my finger on. But when I saw the outtakes at the end I figured out what it was: They actually had FUN making this. That percolates throughout the film. I also speak German so I got a take on the film that not every American does: Glover and Machrowiak's dialog is written the way people would like to be able to talk. (Like the old-style movies used to do.) It's witty and perfectly timed - like a song. If only we could do this in every day life... The dialog style would be tricky for many actors, but Denis Aubert (Florian) and Marina Senckel (Jenny) make it work. One character who seems quirky and quick enough to almost be this witty is Tina - the shop assistant - played by Roberta Bianchini. Her job interview scene and the back and forth about the trials of dating - with Florian - is a comedic highpoint. It's only occasionally that the humor is paid for at the expense of credibility. But this is a screwball comedy, not a historical drama, so credibility is not the number one priority. Overall, I think it's a worthwhile movie to watch and I give extra points for the lack of guns, violence, explosions or profanity. (Very rare indeed in 2014.)
Jeff Logan
Set in a breezy Berlin, "Go with Le Flo" is a charming, romantic comedy about the pursuit of misguided love that leads the audience on a romp through smiles, laughter and good music. On his search for a soul mate, our bemused food shop owner hero encounters delightful customers, residents and visitors to this buzzing international city, along with pratfalls, stuffed sausages and a rather slippery plate of sauerkraut. I recommend this joyous, well acted film that harkens back to a gentler time and is reminiscent of the wonderfully human Italian film "Bread and Chocolate". Do yourself a favor and "Go with Le Flo" to the German capital.
Claudine Stevens
Go With Le Flo Quotes
There are no approved quotes yet for this movie.