God on Trial
(2008)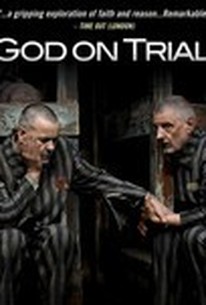 AUDIENCE SCORE
Critic Consensus: No consensus yet.
Movie Info
In a universe presumably ruled by a benevolent, all-powerful God, how can events such as the Holocaust possibly come to pass? This is the question posed by a group of inmates in Auschwitz, the Third Reich's most notorious death camp, in this reflective war drama written by Frank Cottrell Boyce (Millions, Code 46), and directed by Andy DeEmmony (Filth: The Mary Whitehouse Story). Realizing that their extermination is imminent, the prisoners attempt to make sense of their fate by putting God on trial. How is it that the deity they call the Almighty could abandon His chosen people in their hour of need? As the sound of prisoners being marched to the gas chambers drifts hauntingly through the walls, the trial gets underway. The questions posed during the inquest are profoundly difficult and deeply complex, and as the hour draws near when they, too, will face death at the hands of their captors, the thoughtful prisoners finally reach a verdict. ~ Jason Buchanan, Rovi
Rating:
NR
Genre:
,
Directed By:
In Theaters:
On DVD:
Runtime:
Studio:
WGBH Boston
Critic Reviews for God on Trial
There are no critic reviews yet for God on Trial. Keep checking Rotten Tomatoes for updates!
Audience Reviews for God on Trial
The question of "is there a god?" has plagued humanity sense we first were able to think such thoughts. During the coarse of history, the god of the Jews supposedly watched over his people, delivering them from their enemies and rescuing them from their iniquities. It only makes sense that his people would question him during one of the greatest atrocities of mankind. "God On Trial" is a television film directed by Andy de Emmony. The cast includes; Rupert Graves, Dominic Cooper, Stellan Skarsgård, and Stephen Dillane. During WWII, six million Jews were slaughtered by the command of Adolf Hitler. A group of Jews are transported to Auschwitz, where they will undergo a death sentence. Waiting for the inevitable, one young Jew asks the question, "where is our God?" It is an obvious question, one that any normal human being would ask. The Jews were given a covenant by their god long ago, that he would always keep them safe and deliver them. Chaos soon ensues. Several of the elder Jews call out, "blasphemy!" In order to resolve their doubts, the men decide to hold a trial. They put god on trial. As with any Masterpiece Classic, the performances are top notch. Everyone gives a masterful, powerful performance. Stellan Skarsgård leads the trial, Stephen Dillane and Rupert Graves on either side. Witnesses are called, stories are told. Among the crowd are deeply religious, and some are non-believers. Rabbi's, physicists, and even a non Jew come together to put god on trial. Aside from the great performances, the film is beautifully shot an well made. It briefly shows you a glimpse of the horrors of Auschwitz. It was a cruel place, full of suffering and misery. The film isn't really about arguing for the existence of a god. In the end, god is pretty much assumed to exist by nearly all of the inmates. The point of the film is: has god kept his covenant, and is god good? Many familiar arguments are brought forward. Learned men of the Torah bring forth the stories of god's deliverance of their people. Then the harder propositions are brought forward. Do they deserve punishment? Did they commit a wrong act against their god? Have they sinned? Questions of free will, science, and logic are proposed. The final ten minutes of the film showcase the final verdict. A brilliant speech is given, and they come to a decision. "God On Trial" is a brilliant film from start to finish. It calls many things into question about god and religion. Many thought provoking questions are raised, and the conclusion is inevitable. The performances are amazing, the script and dialogue are strong, and the direction is sound. This is a must watch for anyone who is interested in these kind of thoughtful films.
Alasdair Boswell
A movie that questions not the existence of God, but of how correct he can be, 'God on Trial' brings to our minds eye a different side of the fateful Holocaust. We often are shown films focussing on the soldiers on bot sides, and many on Hitler himself, but only a handful actually confront the problems faced by the prisoners and their own internal struggles. With stunning performances by Stellan Skarsgard, Dominic Cooper, and Rupert Graves, 'God on Trial' is a necessity for anyone who is interested in history of any kind, and also for anyone who likes films. It's a genuinely good film, and a genuinely needed watch.
Kallia Rinkel
½
God is put on trial by a group of Jewish men in the barracks at the Auschwitz concentration camp. Some of the best arguments – both for and against the justice and faithfulness of the God of the Old Testament – are offered in powerful and emotional appeals. Most viewers will walk away from the film having the same opinion they had when they began, and the creators of the picture must have known that that would be the case, for the film ends on a much more ambiguous note than either side would prefer. A very thought provoking film that poses questions that all monotheists must face.
David P
God on Trial Quotes
| | |
| --- | --- |
| Akiba: | "God is not good. He was only on our side." |
| Akiba: | God is not good. He was only on our side. |