God is Brazilian
(2005)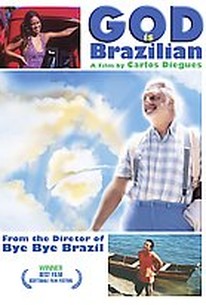 AUDIENCE SCORE
Critic Consensus: No consensus yet.
Movie Info
Rating:
NR
Genre:
Directed By:
On DVD:
Runtime:
Critic Reviews for God is Brazilian
All Critics (2) | Fresh (1) | Rotten (1) | DVD (1)
A kind of ecclesiastical buddy/road picture that uses its journey to explore both the nature of God and humankind.

Mountain Xpress (Asheville, NC)
Audience Reviews for God is Brazilian
½
God Is Brazilian (2004) s a 2003 Brazilian comedy film directed and co-written by Carlos Diegues. I am a fan of Brazilian movies and have seen a lot of them. I am trying to see more. I lived in Brazil for 10 months when I was 21 years old in 1975. There have been a lot of movies of the last 25 years about God coming to earth and talking and walking around and interacting. Most have been horrible. This movie is an exception. Plotwise: God decides to take a vacation - but, first, He has to find a saint who can rule the universe while He's away. For that, He goes to Brazil's northeast, where He believes there's a very good man for the job - but, during His mission, He becomes friend of a very smart young man, Taoca (Wagner Moura). Taoca, a part-time fisherman and small-time con artist, With Taoca, God travels the country in hopes of finding a new saint who is fit for the job. Along the way, they meet a woman, Madá, who joins the two in hopes they will take her to São Paulo, where her mother has died. Eventually, the trio comes across a young man who appears to have the right qualifications, except he has no belief in a higher power. This movie really is almost another Brazilian road Trip movie (like Bye Bye Brazil another excellent film from the 1980s) It's a comedy but the territory the dialogue between Taoca and God cover is another matter. They cover many interesting social and religious issues about man's existence in the modern world. The strong point about the film is that they took their issues seriously, in able to make them funny and real. They combined the story and elements perfectly. It's really a witty funny intellectual movie. Another great thing about the movie is the places they travel through the drought stricken and poverty stricken north east Brazil. You get a really good look at some places most of never get see and also seeing life for real as it exists today in Brazil. (Which is so varied compared to the suburbs of the USA) This God is certainly a gust of fresh air compared to his American counterpart. God is a good guy, simple, vain and proud of his work. The film has the quality of being simultaneously profound and a pleasure to watch. It is very modern (or post-modern) in this attempt to target a wide audience but still taking that audience into feelings and thoughts quite outside the thoughts of everyday life; into the things people tend to forget or overlook. Really the film is another great example of the South and Central American "Magical Realism" (fantasy). Magic realism, or magical realism, is an artistic genre in which magical elements or illogical scenarios appear in otherwise "realistic" or even "normal" settings. It has been widely used in relation to literature, art, and film. It can be defined as "what happens when a highly detailed, realistic setting is invaded by something 'too strange to believe'. God is Brazilian is so fresh and inventive it could have been written by Carlos Fuentes or Gabriel Garcia Marquez. They are both Spanish with Spanish "Magical Realism" where this film is the Brazilian presentation of this style of fantasy film. Wagner Moura as Taouca is especially good! He is so exuberant and funny in this role. He has been good in many of the Brazilian movies I have seen recently including : Behind the Sun Carandiru and Lower City. I hope you can tell I enjoyed this movie watch it it's a lot of fun and though a comedy covers some interesting ground in philosophy and religion! Four stars almost five !
ld pierce
(***): [img]http://images.rottentomatoes.com/images/user/icons/icon14.gif[/img] Whimsical and fun film.
TTT C
God is Brazilian Quotes
There are no approved quotes yet for this movie.
Discussion Forum
Discuss God is Brazilian on our Movie forum!