God Is Great and I'm Not
(2002)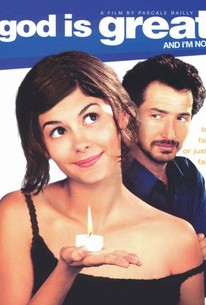 God Is Great and I'm Not Photos
Movie Info
The star of Jean-Pierre Jeunet's 2001 hit Amélie, Audrey Tautou is cast in this romantic comedy as Michèle, a 20-year-old model who has just broken up with her boyfriend and is mired in an identity crisis. Although her life appears to be full, she is convinced something is missing, and thus sets out on a mission to inject a bit of spirituality into her life, donning a bindi and dabbling with Buddha. Along the way, she meets François (Edouard Baer), a veterinarian and non-practicing Jew. Before François has time to exclaim "Oy, vey," Michèle is studying the Torah, festooning François' front door with a mezuzah, and asking to meet his parents. Unsurprisingly, this creates some tension between the two, particularly as what initially seemed a passing interest on Michèle's part soon resembles a somewhat disturbing obsession.
People Who Like this movie also like
Critic Reviews for God Is Great and I'm Not
Audience Reviews for God Is Great and I'm Not
½
I had high hopes for this, as every Audrey Tatou film I have ever seen has been especially cute and quirky, but I still don't know what to make of this melange of artistic style and pretension. It's obviously trying to be a romantic comedy or at least an eccentric take on relationships, but it's simply just annoying. The premise of the film is that a lax Jew starts dating a seriously messed up woman who is trying to find herself through Buddhism, Catholicism, and finally Judaism. Eventually she becomes intense on the subject and wants him to re-experience his faith. This could have been fairly deep, but they try to work in so much more including abortion, attempted suicide, and life after love. It's a cacophony of Tatou's strange oddness and yet her perseverance to find some semblance in meaning when she does something she finds morally reprehensible. The beginning, that includes her breakdown and subsequent anxiety, worked really well and made me think the rest of the film would be deep and poignant. Instead it became a feeding frenzy for Edouard Baer's character and Tatou's to fall in love all the while fighting. Though they have this amazing chemistry that simply sizzles onscreen, their actual dialogue is so annoying and useless that I actually became enraged while reading the subtitles and listening to their whiny voices complain about each other's every flaw. The film incorporate chapters, highlighted with notepaper shots, and sometimes uses scenes in English. I suppose this was for a global market, but I don't see how a small film like this could have had any impact anyway. It's usually touted as a light romantic comedy but nothing about this is ever light. Everything is over the top and overly dramatic. The plot is so disjointed that I can't surely tell if what I'm seeing is the full timeline, or a memory, or this rambling set of events that make sense in this strange world they've created. The film ends with to be continued, but no sequel was made, and if they were going to leave it like that all along, it's just a lazy, empty gesture. I am so sad about this film; I may have to have faith in someone else.
Spencer S.
Super Reviewer
What a freakin' odd relationship the leads have.... crazy.
Leigh Ryan
Super Reviewer
Well, watching this many french Audrey Tautou movies was bound to lead me to a bad one. Totally lame movie about a girl who tries to be Jewish to be with some A- hole guy. Not really worth paying attention too, and so I did some crossword puzzles at I watched.
Curtis Lilly
Super Reviewer
God Is Great and I'm Not Quotes
There are no approved quotes yet for this movie.