The Godfather
(1972)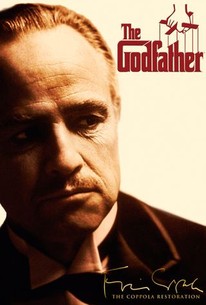 TOMATOMETER
AUDIENCE SCORE
Critic Consensus: One of Hollywood's greatest critical and commercial successes, The Godfather gets everything right; not only did the movie transcend expectations, it established new benchmarks for American cinema.
Movie Info
Popularly viewed as one of the best American films ever made, the multi-generational crime saga The Godfather is a touchstone of cinema: one of the most widely imitated, quoted, and lampooned movies of all time. Marlon Brando and Al Pacino star as Vito Corleone and his youngest son, Michael, respectively. It is the late 1940s in New York and Corleone is, in the parlance of organized crime, a "godfather" or "don," the head of a Mafia family. Michael, a free thinker who defied his father by enlisting in the Marines to fight in World War II, has returned a captain and a war hero. Having long ago rejected the family business, Michael shows up at the wedding of his sister, Connie (Talia Shire), with his non-Italian girlfriend, Kay (Diane Keaton), who learns for the first time about the family "business." A few months later at Christmas time, the don barely survives being shot by gunmen in the employ of a drug-trafficking rival whose request for aid from the Corleones' political connections was rejected. After saving his father from a second assassination attempt, Michael persuades his hotheaded eldest brother, Sonny (James Caan), and family advisors Tom Hagen (Robert Duvall) and Sal Tessio (Abe Vigoda) that he should be the one to exact revenge on the men responsible. After murdering a corrupt police captain and the drug trafficker, Michael hides out in Sicily while a gang war erupts at home. Falling in love with a local girl, Michael marries her, but she is later slain by Corleone enemies in an attempt on Michael's life. Sonny is also butchered, having been betrayed by Connie's husband. As Michael returns home and convinces Kay to marry him, his father recovers and makes peace with his rivals, realizing that another powerful don was pulling the strings behind the narcotics endeavor that began the gang warfare. Once Michael has been groomed as the new don, he leads the family to a new era of prosperity, then launches a campaign of murderous revenge against those who once tried to wipe out the Corleones, consolidating his family's power and completing his own moral downfall. Nominated for 11 Academy Awards and winning for Best Picture, Best Actor (Marlon Brando), and Best Adapted Screenplay, The Godfather was followed by a pair of sequels. ~ Karl Williams, Rovi
News & Interviews for The Godfather
Critic Reviews for The Godfather
Audience Reviews for The Godfather
Spectacular. Every time I see it, it gets better. From its flawless direction, to its exceptional score, to its (near-)flawless script, I have no doubt "The Godfather" is one of the best movies ever made.
Christian C
Super Reviewer
Francis Ford Coppola & Mario Puzo bring the famed-mafia novel to life. The Godfather is an excellent portrayal of power, betrayal and family. Beautifully written and stunningly executed, the film is a landmark motion picture with stunning performances (Brando, Pacino, Caan) that is still held up to this day as a timeless classic. 5/5
Eugene Bernabe
Super Reviewer
The son of a Mafia boss returns from the war and following an attempt on his father's life becomes more and more embroiled in the shadowy world of organised crime. Francis Ford Coppola's classic gangster saga is the story of a criminal dynasty headed by Marlon Brando in one of his most iconic roles. Coppola's direction is deceptively simple in that he uses no gimmicks or stylistic tricks; he merely allows the story to unfold and lets the superb cast do their thing. Brando's mumbling family and loyalty obsessed don has since become part of popular culture folklore (along with the classic score) and all other accompanying performances are top notch, from James Caan's hot headed Santino to Robert Duval's purely business orientated adviser. But this film is really the story of Michael's transition from honest war hero to shadowy underworld figure, played by Al Pacino in his finest role. The pivotal scene in which his newborn godson is baptised while Michael himself, the newborn "Godfather", is baptised in blood is an all time great. This is the birth of the modern gangster film and with the possible exception of Goodfellas, it is still to be surpassed.
The Godfather Quotes
| | |
| --- | --- |
| Don Vito Corleone: | I'm gonna make him an offer he can't refuse |
| Don Vito Corleone: | I'm gonna make him an offer he can't refuse. |
| | |
| --- | --- |
| Don Vito Corleone: | Revenge is a dish best served cold. |
| | |
| --- | --- |
| Don Vito Corleone: | "A friend should always underestimate your virtues and an enemy overestimate your faults." |
| Don Vito Corleone: | A friend should always underestimate your virtues and an enemy overestimate your faults. |
| | |
| --- | --- |
| Don Vito Corleone: | Revenge is a dish best served cold |
Discussion Forum
Discuss The Godfather on our Movie forum!