Godmonster of Indian Flats
(1973)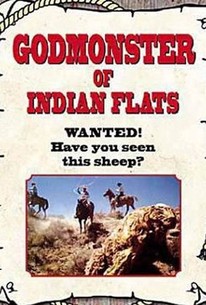 AUDIENCE SCORE
Critic Consensus: No consensus yet.
Godmonster of Indian Flats Photos
Movie Info
Virginia City, NV, is home to the Comstock Lode, a mine that struck big in the latter half of the 19th century. One hundred years later and the city looks very much the same, thanks to the efforts of Mayor Charles Silverdale (Stuart Lancaster), who has bought up most of the property and restored the town to its historical state. When a representative for an Eastern mining concern (Christopher Brooks) comes around trying to buy up shares in the Comstock, Silverdale and his henchmen must go to some extreme lengths to discredit him, framing him as a dog-killer and even attempting a secret lynching. Meanwhile, anthropology professor Dr. Cyrus Clemens (Kerrigan E. Prescott) and a local sheep rancher named Eddie (Richard Marion) have made an astonishing discovery: One of Eddie's flock has given birth to a mutated embryo that could prove a cellular realignment theory that the doctor has been working on in his secret laboratory. The creature grows quickly, reaching eight feet tall within a week, and breaks loose when the lynch party, seeking their escaped victim, lobs tear gas through the windows of the lab. Martial law is declared, and both Clemens and Silverdale are eager to capture the monster alive, though their motives are very different. The professor is sure that further study of the animal can unlock the secrets to existence, while the mayor simply wants to put the creature on display and charge admission. The confused, misunderstood monster kills a deputy, scares some picnicking children, and blows up a gas station before a group of cowboys on horseback locate it and attempt to rope the beast rodeo-style.
Critic Reviews for Godmonster of Indian Flats
All Critics (3) | Fresh (2) | Rotten (1) | DVD (1)
An almost experimental, totally unpredictable and fever-pitched horror-western that seems beamed-in from another dimension.
It is arguably not as inspired as Hobbs' even more obscure Alabama's Ghost and Roseland, but it's still an impressively bonkers hybrid conceit that dives into its own ridiculousness snout-first.
Audience Reviews for Godmonster of Indian Flats
WEIRD is the best way to describe this flick.It started off as a modern movie & seemed to almost end up as a Western.The sheep seemed to be more of a deformed camel or something.If you like weird movies then I think you'll like Godmonster Of Indian Flats
Brody Manson
Super Reviewer
So much more bizarre than the low budget monster movie I was expecting.  There is a lot of plot to this film and it oddly has a business man looking to buy out property as the ?good guy? and the mayor trying to preserve the town as the ?bad guy?.  I really liked this one of a kind movie.
Christopher Brown
Super Reviewer
Godmonster of Indian Flats Quotes
There are no approved quotes yet for this movie.