God's Gun (A Bullet from God) (Diamante Lobo)
(1977)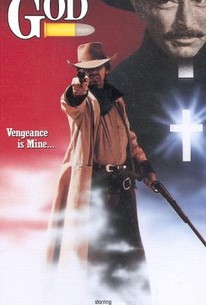 AUDIENCE SCORE
Critic Consensus: No consensus yet.
Movie Info
When a group of men attempt to murder a preacher, he revisits the gunslinging days of his past in order to exact revenge.
Rating:
R
Genre:
, ,
Directed By:
In Theaters:
On DVD:
Runtime:
Studio:
Golan-Globus Productions
Audience Reviews for God's Gun (A Bullet from God) (Diamante Lobo)
Pure european view of the Western. Pretty awfully acted, choppy shooting, the soundtrack is horrid, the action over the top, of course. Top stars of the day got suckered into this one, obviously. Watch at your own pleasure. Great title though.... eh, God's Gun. SEE the entire film here: http://www.youtube.com/watch?v=pbp-XxkB4RY&feature=watch-now-button&wide=1 NOTES: 1 If you'll take notice, Lief Garrett, a brief singing sensation teen idol plays a role in this. Leif Garrett (born Leif Per Nervik; November 8, 1961) is an American singer and actor. He became famous in the late 1970s as a teen idol, but received much publicity in later life for his drug abuse and legal troubles. [img]http://t1.gstatic.com/images?q=tbn:ANd9GcRk1YCfTCtFplgpNhFIF1idhRL0kRzPLvMI0IdZV88Nq_neWafb[/img] Chart singles 1977 "Surfin' USA" US #20 1978 "Put Your Head on My Shoulder" US #58 1978 "Runaround Sue" US #13 1978 "The Wanderer" US #49 1979 "I Was Made for Dancin" US #10, UK #4 1979" "Feel the Need" US #57, UK #38 1979 "When I Think of You" US #78 1980 "I Was Looking for Someone to Love" US #78 1980 "Memorize Your Number" US #60 1981 "Runaway Rita" US #84 [img]http://upload.wikimedia.org/wikipedia/en/3/30/GodsGun.jpg[/img] Reviews from guys like us: 1 Lots of voices were dubbed - it's a spaghetti western, shot by Italians in Spain, with the women and supporting cast Italian. US westerns wouldn't hire people ugly enough to look like the old west. Richard Boone's voice was dubbed by someone not 1/10th the actor he was. 2 The film is all action and no brains. 3 60% I'll piss on your grave before I hang from a rope. Twin brothers grew up in a western town. 4 40% This movie is too strange to be enjoyable and not strange enough to be a cult classic. 5 10% I just got through watching this movie on Encore Western channel. It is hard to believe Lee Van Cleef and Richard Boone did this rediculous movie. [img]http://t2.gstatic.com/images?q=tbn:ANd9GcQfPYcjP1qsaZ7Yeu2qtyNq_Tpo-Vhg6dhyPqmOSEERGXWcZw9T[/img] Directed by Gianfranco Parolini (as Frank Kramer) Writing credits John Fonseca (screenplay) Gianfranco Parolini (screenplay) (as Frank Kramer) [img]http://www.movieposter.com/posters/archive/main/101/MPW-50699[/img] Produced by Yoram Globus .... associate producer Menahem Golan .... producer Original Music by Sante Maria Romitelli Cinematography by Sandro Mancori (director of photography) Film Editing by Manlio Camastro [img]http://t1.gstatic.com/images?q=tbn:ANd9GcQu3td3A-sFUqggdaZoP8JLtZAE_ZVD6KZ87-htfQ10F2zWl3RSqw[/img] CAST: Lee Van Cleef ... Father John / Lewis Jack Palance ... Sam Clayton Richard Boone ... The Sheriff Sybil Danning ... Jenny Leif Garrett ... Johnny Robert Lipton ... Jess Clayton Cody Palance ... Zeke Clayton Ian Sander ... Red Clayton Pnina Rosenblum ... Chesty (as Pnina Golan) Zila Carni ... Juanita Lewis Heinz Bernard ... Judge Barrett Didi Lukov ... Rip Ricardo David ... Angel George Chin Chin ... Willy Rafi Ben Ami ... Mortimer [img]http://t0.gstatic.com/images?q=tbn:ANd9GcRPofZaJscLKSmt3fShX4mI1j-VbqvF4OJMmjzjSmfL3dYfUZr8Lg[/img]
monsieur rick
I'll piss on your grave before I hang from a rope Twin brothers grew up in a western town. They were raised to be perfect with the gun and as they matured they went in separate directions. One became a minister and one became a gambling outlaw. They eventually part ways for various reasons with the minister staying in their home town and the outlaw going to Mexico. When the minister is gunned down by some bank robbing outlaws, the outlaw brother will return to obtain revenge. "You want a drink, stranger?" "It'll do for a start." Gianfranco Parolini, director of Sabata, Giant of the 20th Century, Adios Sabata, If you Meet Sartana Pray for your Death, Seven Vengeful Women, and The Fury of Hercules, delivers God's Gun. The storyline for this picture is interesting and worth following but nothing special overall and a bit frustrating at times. The action scenes are excellent and the cast delivers better than average performances. The cast includes Lee Van Cleef, Jack Palance, Richard Boone, Sybil Danning, Leif Garrett, and Robert Lipton. "I have some business to take care of." Lee Van Cleef is one of our favorite western actors and my wife came across this film while flicking through the channels and DVR'd it for us. There were definitely some entertaining sequences and some awesome shootouts, but the plot and story delivery was frustrating at times. I thought Van Cleef could have been used a little better. This is worth seeing if you are a western genre fan but is far from Sergio Leon material. "Then one day god put a bible in his hand instead of a gun." Grade: C+
Kevin Robbins
Extremely dull Western with a parade of the ancients in Van Cleef, Palance, and Boone. Was forced to watch against my will so I suppose that affects my reaction/revulsion. Only memorable part is a laughably gratuitous scene in a whorehouse run by Danning (there's a shocker) although I don't think there's any actual nudity, just a lot of legs & cleavage in a sad attempt to enliven this dead horse.
Doctor Strangeblog
Super Reviewer
God's Gun (A Bullet from God) (Diamante Lobo) Quotes
There are no approved quotes yet for this movie.
Discussion Forum
Discuss God's Gun (A Bullet from God) (Diamante Lobo) on our Movie forum!