Godzilla Against Mechagodzilla (Gojira tai Mekagojira)
(2002)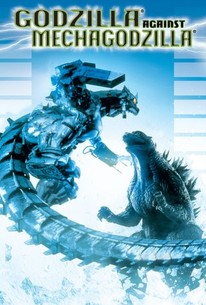 AUDIENCE SCORE
Critic Consensus: No consensus yet.
Godzilla Against Mechagodzilla (Gojira tai Mekagojira) Photos
Movie Info
Godzilla is pitted against his mechanical counterpart, Mechagodzilla. Humans are under attack by the green beast. With little hope left, they build the giant man-piloted robot Mechagodzilla to defend the world. ~ Matthew Tobey, Rovi
Critic Reviews for Godzilla Against Mechagodzilla (Gojira tai Mekagojira)
Audience Reviews for Godzilla Against Mechagodzilla (Gojira tai Mekagojira)
½
Godzilla Vs Mechagodzilla is one awesome entry in the series. The entertainment value of this entry is terrific and makes it a definite must see. I really loved the new direction of the Godzilla movies ever since the reboot and each entry have delivered amusing to the viewers. However this one is the best one since Godzilla 2000, and it most definitely is a fine example of what makes a Godzilla film stand out among other monster films. The direction is very good and the director comprehends the material and in turn directs a worthwhile entry that will certainly entertain any viewer looking for a good time. The film certainly has a lot to offer and the script and story are well done. The fight is highly entertaining and it definitely is one of the finer among the last entries in the series. If you loved every entry, then this will certainly delight you, and is worth watching you want to see Godzilla up against a classic foe. This is a well directed picture that is certainly well constructed and layered. The movie is exciting and thrilling and delivers what you want out of a monster film. The flaws are there, but the entertainment value makes up for it and it is among one of the best, most memorable films in the series. I thoroughly enjoyed the film and it is one of my favorite of the series as well. Go into this one expecting a memorable viewing experience.
I'm not really a fan of the 3rd reboot series of Godzilla. I feel they lack imagination and the ambition of the 2nd reboot, and just have too much cheese so they feel more like the WWE than a monster (kaiju) film.
Bryan Davis
Super Reviewer
Godzilla Against Mechagodzilla is a triumphant knock-around classic. The film is such a success as it takes all that is great about Godzilla movies, links it to the first, and brings in a number of powerful human elements so there is something worth fighting for. It's great to see a series of movies continue to mature, even after 26 movies. It starts in the pouring rain, and Godzilla attacks, killing a squadron of soldiers charged with protecting against monster attacks. The sole survivor is blamed, and demoted to data entry. Meanwhile, a scientist isasked to take the bones of the original Godzilla, and make a clone/robot. This takes Japan 3.5 years, and it was nice to see some government talk about costs, and how the rest of the world might react to such a powerful weapon. There was also a sweet moment when the scientists daughter wondered why clone a monster and not her deceased mother. Once the robot is ready Godzilla shows up again, like an ass, and Shaku is reinstated to pilot the Mechagodzilla. However, she still has much to prove as her team don't completely trust her. The suits must be much lighter, as this Mechagodzilla is agile and quick. He has a vast array of weapons, which are all used well. The film doesn't outstay its welcome and it constantly offers new visuals. It's an absolute wonder for fans, and also works as a stand alone piece.
Luke Baldock
Super Reviewer
Godzilla Against Mechagodzilla (Gojira tai Mekagojira) Quotes
There are no approved quotes yet for this movie.
Discussion Forum
Discuss Godzilla Against Mechagodzilla (Gojira tai Mekagojira) on our Movie forum!