Godzilla vs. Biollante
(1989)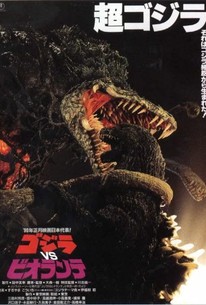 AUDIENCE SCORE
Critic Consensus: No consensus yet.
Godzilla vs. Biollante Photos
Movie Info
Four years after Toho's semi-successful re-launch of their Godzilla series with Godzilla 1985, the studio released this vastly-superior sequel. In the chaos following the Green One's rampage in the previous installment, clean-up crews discover a large quantity of sloughed-off cells from the radioactive behemoth, which become the source of some international intrigue as agents from a fictitious nation nab a quantity of the cells from American mega-corporation BioMajor. The cells fall into the hands of obsessed scientist Dr. Shiragami, who intends to cross-breed them with plant life. After his daughter is killed in a sabotage attempt by BioMajor, Shiragami determines that her spirit has occupied a special rose bush... which, naturally, the loony Doc decides to splice with Godzilla cells, producing a 30-story-tall tentacled rose-monster dubbed "Biollante." BioMajor pulls yet another stunt, setting off a bomb which releases Godzilla from his mountain prison, leading to the inevitable showdown between the two. Vastly superior effects and a more interesting Godzilla design mark this as a more confident return to form, although the English-language print sports the usual hilarious dubbing, which gives one Japanese executive a thick Southern drawl.
News & Interviews for Godzilla vs. Biollante
Critic Reviews for Godzilla vs. Biollante
All Critics (3) | Fresh (2) | Rotten (1)
Some of the all-time best effects work in the annals of giant monster movies.
Are these guys in rubber suits really necessary...again?
June 1, 2005 | Rating: 1/5
Audience Reviews for Godzilla vs. Biollante
After the decent remake of Godzilla, the series is going back to its old ways by putting Godzilla against stupid foes. In this one, Godzilla is battling a radioactive plant monster. I really didn't care about this one and I felt that it lacked significantly in terms of good story and entertainment value. Some may view this as a guilty pleasure. Die Hard fans may enjoy this, but common filmgoers will surely not like this. I felt that the film could have used a rewrite and the filmmakers could have put a bit more effort into tryi9ng to create a better film. As it stands this is a mediocre film that doesn't stand out. Watch it if you love the films, but be warned that the film suffers from a pointless plot, a mediocre script that is underdeveloped and a cast that just doesn't cut it. The film is forgettable in the long run and it is dull and boring. Watch if love monster films, but don't expect anything great.
A direct sequel to Godzilla 1984, Biollante is one of the darker and more interesting of the Godzilla films. The enemy of Godzilla is a bio-engineered creature that was made using cells of Godzilla, making one of the most bizarre movie monsters I've ever seen. Overall, its pretty solid, but where the film gets hazy is the very end. I'm not really sure what happened, or which monster won or lost the fight. But until that point, I had a good time watching this ambitious Godzilla movie.
Bryan Davis
Super Reviewer
Another great entry into the rebooted franchise. It picks up where the last Godzilla films left of. However, it soon turns into an espionage thriller, Americans and, most dangerously of all, middle eastern folk, try and steal a Godzilla fragment to experiment with. It leads to the creation of a giant plant. Nothing too dangerous you might think, but as it mutates, the design is really quite breathtaking. This film once again takes it up a notch. It feels so genuine in its portrayal of the events, and even manages to convince the audience that this is all very real. As always, the score is truly dominant. It flows throughout the film bringing both dread and excitement. I loved how they gradually introduce the more "out there" ideas. This time, it's telekinesis with flowers. Like the classics, it is a story of man and nature, and how fooling around could lead to absolute destruction by giant monsters. There were also a number of humane touches and some maturity lacking from earlier attempts. When asked if he will go to America a young man says that he wont, as every country has bad things about it. For once, the foreign devils aren't to blame. Just humanity as a whole.
Luke Baldock
Super Reviewer
Godzilla vs. Biollante Quotes
There are no approved quotes yet for this movie.