Goemon
(2009)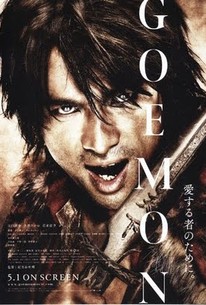 AUDIENCE SCORE
Critic Consensus: No consensus yet.
Movie Info
Japanese anime guru Kazuaki Kiriya ascended to prominence with his sprawling fantasy Casshern (2004), a tale that coupled post-apocalyptic visions with early 21st century design, and shared the success of the manga and anime from which Kiriya and his colleagues adapted it. Kiriya waited five years before emerging with this follow-up, produced by J-horror godfather Takashige Ichise (The Grudge). Described by more than one source in the press as a Japanese equivalent of Robin Hood, it unfurls in the late 16th century. The year is 1582, and the most miserly warlord in Japan, Oda Nobunaga, promptly falls prey to an assassin's blade and is succeeded by his own right-hand-man, Toyotomi Hideyoshi (voiced by Eiji Okuda). Unfortunately, all is far from well on the sociological front: a huge chasm exists between rich and poor, and evening things out is super-thief Goemon (voice of Yosuke Eguchi), who spends his day redistributing wealth to the lower economic classes. Fate takes an intriguing turn when Goemon acquires a small, ornate, handcrafted box of foreign design that he swipes from a merchant and hands to a homeless kid (voice of Arashi Fukasawa). Also after the box is the bugyo (or administrator) of Hideyoshi, who sends a vicious ninja (Kirigakure Saizo) out to take care of Goemon and retrieve the item; Goemon recovers it first, however, while saving the young homeless boy from a bellicose swordsman (voice of Tetsuji Tamayama). In no time at all, Goemon finds himself being pursued by everyone under the sun including Mitsunari, re-encounters a lost love from his past, Cha Cha (voice of Ryoko Hirosue) and realizes that the box will play an integral role in the nation's future. ~ Nathan Southern, Rovi
Rating:
NR
Genre:
,
Directed By:
In Theaters:
On DVD:
Runtime:
Critic Reviews for Goemon
There are no critic reviews yet for Goemon. Keep checking Rotten Tomatoes for updates!
Audience Reviews for Goemon
It Should Come With a Warning I have always enjoyed Asian moviemakers use of action and history, even if the action is a little over the top and the history taken artistic advantage of. In the case of Goemon, however, the advantage taken was beyond the line of good taste. The events of the story are based, loosely, upon the events near the end of the medieval period of Japan, what is most commonly called Sengoku, or country at war. Almost all of the characters, major ones and minor ones, are at least named after historical people, but that is where the relation to history stops. How history is handled in this movie is almost comical expect for one fact that makes it insulting. This is just a movie and no reasonable intelligent person believes that history will be treated honorably by those who make entertainment, and sometimes that is just fine. However, in Goemon, the goal of the hero is to kill Toyotomi Hideyoshi, a general of Oda Nobunage who very briefly unified Japan before Tokugawa Ieyasu in 1600. The events in the movie have Hideyoshi meet his end before he orders the invasion of the Korean peninsula. This invasion, known as the Imjin War, lasted for seven years and resulted in the deaths of hundreds of thousands of people. It was an utter failure for Hideyoshi and was a brutal war for the Korean people. The fact that this movie wants to dig up the roots of history to tell their tale and then skip over these blood soaked seven years straight to the Battle of Sekigahara is insulting. Perhaps such an inslut could be forgiven if the entertainment factor was there, but that is not the case. While Goemon is live action, it takes on an Anime influenced fantasy appearance with a touch of steam-punk. The steam-punk element is mostly found in the firearms used and a few objects, like a very sophisticated door and a mechanical Pandora's Box. The Anime influence is even more apparent because everything is computer generated, even the actors themselves during some action scenes. This really doesn't work well, as nothing looks real. The entire world is computer generated, grass, water, trees, sometimes even the furniture the actors are sitting on looks generated. The CGI effects are not good, there is a horrible contrast between the actors and their environment. If one wanted to be nice they could say that this was done on purpose to bring closer the worlds of live action and Anime, but the argument that the production company is cheap could also have a strong case. The writing is terrible. At the beginning of the movie a lieutenant of Hideyoshi, Mitsunari, is having his men search for Pandora's Box, which Goemon has stolen. They are very worried over it and are killing anyone who might get wind of it. So, one would think that this box would play a large role in this tale, which it doesn't. You see it at the start and then in disappears. It is not even explained why a object of western mythology is in Japan in the first place. No one talks about it until the very end when Goemon hands to a young boy he has been taking care of and gives him some banal speech about hope, or not being vengeful, before Goemon goes and avenges the death of his former lord Nobunaga. I am not sure. No one says anything worth saying or anything that makes that much sense. The motivations of the character is equally unclear. While it might seem like vengeance or greed is a motivation, characters don't seem fully committed. Of course, this could be the fault of the actors who are all flat and deadpan. Whether it is the fault of the writers, the director, or actors there is very little emotion or believably to these Anime devolved historical figures. The only thing the actors have going for them is their looks. Just about everyone in this movie is model from a magazine cover. Expect for those men who are to inspire a very weak and ineffectual comic relief, they are all handsome and stoic. The women are beautiful even when wearing some of the most ridiculous costumes. While everyone's hair is in place and make-up impeccably done this doesn't help the movie. The unbelievable good looks of the actors just adds to the unbelievably of the entire movie. It does however explain their poor acting. There is one compliant I have that has nothing to do with the movie and that is the version I had to watch was dubbed not subbed. Netflix streams quite a few foreign films but never gives the viewer the choice between subtitles or voice dubbing. Most of the times the english speaking actors who voice for foreign films are horrible. This is because of a combination of being limited to the mouth movements of the foreign actors and their lack of acting skill. Most people who enjoy foreign films will always want subtitles, as this sounds better and there is less lost in translation. Even if Goemon had subtitles it wouldn't have saved the movie, but perhaps given me something else to dislike.
Shaun Brammer
½
"Goemon" is a Japanese historical drama based on the true story of Goemon Ishikawa's life during the Sengoku-era. It has a lot of action and heart-rending retributions since Goemon's mission is to avenge the death of Shogun Nobunaga. Though produced in 2009, the film has a poor CGI, which unfortunately could distract one from enjoying its excellent story plot and the battle scenes. However, this is a film that can teach a lot about Japanese history within a time frame of just two hours. This is a highly-recommended watch for history buffs.
Thomas Andrikus
Magnificent historic tale of a Japanese Robin Hood. In the running time of story, there is certainly no lack of sumptuous composition and stunning colour. The action is hyperactive and generally defies the rules of the real world, though they make total sense in the scheme of Goemon's. The sheer audacity of the large scale battles, especially in the last quarter, makes the viewer simultaneously bewildered and amazed. The style is very solid: the mix of Asian/Western costume design or architecture is continuous through the entire movie and nothing looks like a mistake or an accident or bad taste. The mix of true historical elements and modern elements (dance, etc) keeps things real while traditional elements (like the firefly) constantly remind us it's also a fairy tale that we are watching. All actors match their roles, great casting and especially the lead actor Yôsuke Eguchi is so universally good.
Dean McKenna
Super Reviewer
Goemon Quotes
There are no approved quotes yet for this movie.
Discussion Forum
Discuss Goemon on our Movie forum!