Goin' to Town
(1935)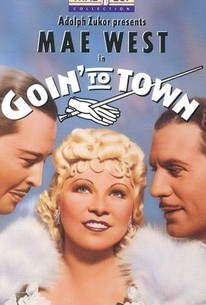 AUDIENCE SCORE
Critic Consensus: No consensus yet.
Movie Info
When wild, wealthy widow Cleo Borden sets her eyes on the refined Edward Carrington, she'll do just about anything to win his affection. With the help of a make-over and some lessons in ladylike behavior, Cleo becomes a leading figure in high-class society, but will her efforts catch Edward's attention?
Critic Reviews for Goin' to Town
All Critics (2) | Fresh (2) | Rotten (0)
Goin' to Town managed to more-or-less play by the rules and still emerge as a good Mae West picture.

Mountain Xpress (Asheville, NC)

Ozus' World Movie Reviews
Audience Reviews for Goin' to Town
In my Best Mae West~ "Hey Big Boy, Why Don't You Come Up & See Me Sometime"~ isn't this the one where she says that? Her One Liners Make her movies, otherwise, she's kinda Gross
Marilee Aschwanden
½
It's true, you know. Mae West--certainly as she acts in this movie--[i]is[/i] trash. She's good-hearted, certainly, but she's still trashy. Oh, she wants good things, but she's got low tastes, and she's not, despite what she says, intellectual. She's trash. She's a good person regardless, but she's out-of-place in the circles her new wealth affords her. Then again, quite a lot of the people in the circles [i]aren't[/i] good people. They're just different. They've been exposed to different things than she has. It's not that I don't think they might have things in common. It's that . . . I can't even explain what I mean. You aren't supposed to sympathize with Delilah, for one. You just aren't. She's intended to be the villain. I can see her point, I think, but still. I'm not sure I could have a conversation with this character. She's not half so friendly as she was in the last movie, though I wonder how much of that is based on the corner she's being pushed into. I just couldn't think of marrying someone based on a roll of the dice (it's my problem with one of the plot lines in [i]Friends[/i], too). I wouldn't marry someone for a title. There are better ways to climb the social register. I guess the problem I have is that she treats men as toys. Even the one she says she wants. It's a game. It's one she plays very well, but it's a game. Though, now I think about it, that's pretty much exactly as anathema to me as the way the rich treat it in this film--as a way of life. I don't understand either, I guess, and it's hard for me to get into it.
Edith Nelson
Goin' to Town Quotes
There are no approved quotes yet for this movie.
Discussion Forum
Discuss Goin' to Town on our Movie forum!