Going Hollywood
(1923)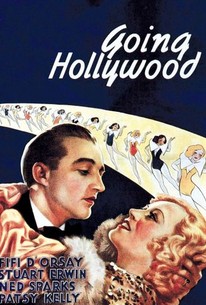 AUDIENCE SCORE
Critic Consensus: No consensus yet.
Movie Info
In this film, Bing Crosby plays a struggling crooner who falls in love with Marion Davies, a French teacher in a girl's school. He rises to fame in Hollywood, leaving Davies behind. She trails after him and becomes a movie star in her own right, supplanting Crosby's current vis-a-vis.
Rating:
NR
Genre:
, , ,
Directed By:
Written By:
In Theaters:
On DVD:
Runtime:
Studio:
Cosmopolitan
Critic Reviews for Going Hollywood
All Critics (2) | Fresh (2) | Rotten (0)
Classic Film and Television
It never amounts to more than a programmer, but it's entertaining fluff.

Ozus' World Movie Reviews
Audience Reviews for Going Hollywood
½
While perusing Beloved Annika's and Sweet, Sweet William's film collection, I came across [i]Going Hollywood[/i] and was shocked - shocked! - that they had a pre-code musical that I had never seen. So, Annika had Will take it to work and dub a copy for me? Isn't she great?* This isn't the best of the pre-code musicals - I prefer [i]Gold Diggers of 1933[/i] or [i]42nd Street[/i] - but there's a lot to be recommended. Marion Davies is the only non-spinster teacher at a school for girls. One night she hears Bing Crosby singing on the radio and falls in love with him. Bing is a radio crooner (duh) and is about to make a movie with Fifi D'Orsay (in 1971 she played Solange in the Sondheim-Prince musical [i]Follies[/i] singing "Ah, Paris!"). Davies tracks down Crosby in NYC, gets a job as D'Orsay's maid and soon everyone is - all together now - GOING HOLLYWOOD!!! It's your basic backstage comedy, only this time they're putting on a movie instead of a Broadway musical. Which I guess makes it a back[i]lot [/i]comedy, but I digress. Ned Sparks (of [i]Gold Diggers[/i] and [i]42nd Street[/i]) and Patsy Kelley (1971 Tony winner as Best Featured Actress in a Musical for the revival of [i]No, No, Nanette[/i]) provide the comic relief as Crosby's manager and Davies's sidekick. There's a lot of fun to be had here. The highlights of the film, naturally enough, are Crosby's numbers, written by Nacio Herb Brown and Arthur Freed - a team whose songbook Freed coincidentally used in [i]Singin' in the Rain[/i]. Best of the lot are "Beautiful Girl" (used in Singin') and "Temptation." "Temptation" is a beautiful, rueful ballad a drunken Crosby sings after he thinks he's lost Davies. I know I've heard it somewhere before, but I can't remember where. And speaking of drunken Bing Crosby, according to Mark Vieria's [i]Sin in Soft Focus[/i], Marion Davies threw quite the party in her trailer. Apparently, during the filming of "We'll Make Hay When the Sun Shines," Davies was so dead drunk that she had to focus her attention away from the set around her or the swaying daisies - God bless MGM - would have made her lose her liquor. Watch the video. It looks like she's staring at some far off vista with a huge smile plastered on her face through the whole sequence. One unique thing about [i]Going Hollywood[/i] is its title song. It takes place in Grand Central Station and Bing's fans have all assembled to give him a big send off, while singing the song in question. This stands out because the numbers in most every musical in the early 1930s were usually "on stage" numbers. The characters sang because they were putting on a show and the songs were always numbers from said show ie "Pretty Lady" in [i]42nd Street[/i], "The Dancing Cavalier" in [i]Singin' in the Rain[/i], etc. "Going Hollywood" was actually integrated into the plot and sung by characters who broke out into songs with a suspension of disbelief in the best musical comedy tradition. This has got to be one of the first uses of the device on film, though it had been used for years on the Broadway stage. As with most pre-code musicals this one is lotsa fun. Good luck finding it. *Will's contribution was strictly that of convenience. He was really more of an intermediary. Happy?
Rodolfo Raines
Going Hollywood Quotes
There are no approved quotes yet for this movie.