Going in Style
(2017)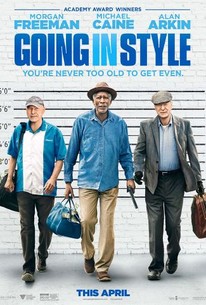 Movie Info
Oscar winners Morgan Freeman ("Million Dollar Baby"), Michael Caine ("The Cider House Rules," "Hannah and Her Sisters") and Alan Arkin ("Little Miss Sunshine") team up as lifelong buddies Willie, Joe and Al, who decide to buck retirement and step off the straight-and-narrow for the first time in their lives when their pension fund becomes a corporate casualty, in director Zach Braff's comedy "Going in Style." Desperate to pay the bills and come through for their loved ones, the three risk it all by embarking on a daring bid to knock off the very bank that absconded with their money.
News & Interviews for Going in Style
Critic Reviews for Going in Style
Audience Reviews for Going in Style
Freeman, Caine and Arkin undoubtedly have chemistry, but Going in Style is an overly 'studio-friendly' remake of the 1979 film that could have been so much more.
Sean Thomas
Super Reviewer
An average and highly amusing crime caper. Caine, Freeman and Arkin are charismatic enough to make this comedy work but there's only so much charisma to make this storyline anything more than just average.
Film Crazy
Super Reviewer
½
There is something to be said for movies that have no particular ambition due to a level of self-awareness. There is something to be said for swallowing your pride, accepting the reality of the situation, and doing what you can with the given factors. It's admirable and with such unabashed pride in the face of acceptance there is charm to be found. A different, slightly quirky, break from the norm type charm and this is what Going in Style relies on to let its audience know it is well aware of what it is and that it has no qualms about it. If you don't have any qualms with the type of entertainment a movie like Going in Style promises to deliver then you likely won't have any issue with the movie either. Going in Style is exactly what one would expect it to be given it comes from screenwriter Theodore Melfi (St. Vincent, Hidden Figures) and by his pen is an updated version of the 1979 film of the same name that starred George Burns, Art Carney, and Lee Strasberg. That film, which I admittedly haven't seen, came from director Martin Brest who may or may not have the strangest filmography in the history of directors. The man, who made his big studio feature debut with the original Going in Style at the age of twenty-eight, would go on to direct the likes of such films as Beverly Hills Cop, Midnight Run, and Meet Joe Black among others until he debuted Gigli in 2003 and hasn't worked since. If you're old enough you may recognize the guy as Dr. Miller from Fast Times at Ridgemont High, but all of this is neither here nor there (though someone should really look into how one film was so detrimental to an otherwise prosperous career). The point is, what made Going in Style a movie worth re-making seems to have been absent from the consideration of the studio and filmmakers and more was simply an excuse to round up some of our best aging actors, throw them in a film together, and let the chemistry and credibility do the rest of the work. If one has seen the like-minded Last Vegas then you know this actually turns out fairly well and to no surprise Going in Style yields much the same results. A superfluous and completely unnecessary re-make, no doubt, but a frothy enough excursion you don't take seriously enough to be upset about. read the whole review at www.reviewsfromabed.com
Philip Price
Super Reviewer
Going in Style Quotes
There are no approved quotes yet for this movie.
Discussion Forum
Discuss Going in Style on our Movie forum!