Going Postal
(2010)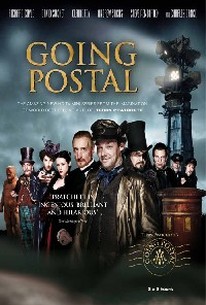 AUDIENCE SCORE
Critic Consensus: No consensus yet.
Movie Info
As a three-hour miniseries (adapted from Terry Pratchetts novel of the same name) that originally aired on Britain's Sky One television, Going Postal (2010) unfolds in the fictional land of Ankh-Morpork. Standing center stage is Moist von Lipwig (Richard Coyle), a master con artist who spends his days devising elaborate scams to fleece locals. The law finally catches up with Moist in the form of Lord Vetinari (Charles Dance), who offers the criminal an odd ultimatum: he can either take over the derelict post office, or die a long and painful death. Moist chooses the former, and is soon put in charge of thousands upon thousands of undelivered letters and packages. He must also contend with a nutty staff and the doings of Reacher Gilt (David Suchet), a crooked businessman hell-bent on destroying his competitors. Also present is Adora Dearheart (Claire Foy), an ice water-veined woman for whom Moist falls. ~ Nathan Southern, Rovi
Rating:
NR
Genre:
, ,
Directed By:
In Theaters:
Runtime:
Critic Reviews for Going Postal
There are no critic reviews yet for Going Postal. Keep checking Rotten Tomatoes for updates!
Audience Reviews for Going Postal
Terry Pratchett writes great books. The problem with adapting them into great movies is that much of his humor is aimed at genre and literary conventions. Things like including footnotes that explore an idiotic idea in detail work very well in written form. In a visual media they would mortally sideline the plot and thus many of his funniest moments are lost. This has posed problems to the studios adapting his books to film, or at least it would if they had seemed aware of it. A successful film of his books would have to change much of the structure and forms of humor to make them work. Instead scenes from the book are played out exactly as written on the page with no room for necessary changes to the pacing or plot. These films are too reverential to the source material, which is why the funniest of the lot was the one that diverged dramatically from the original story (The Color of Magic) to create a genuinely original film. When they do make changes, in this film at least, they make the wrong ones. To provide more of a personal interest I suppose, they've given Moist a much more serious and guilt-ridden personality. This has come at the expense of the charm and audacity that made him such a likeable character in the first place. A lot of that is the acting of course, but the film seems to go out of its way to give him deadly serious monologues about what he's feeling, including a bookending of the first episode with Moist writing a letter of apology for being such a jerk. It's not a terrible film by any means. It's not even bad. But it is bland and stagey and that's rather sad. The costumes look about right, although the golems are cheesy, and seeing Tywin Lannister as Lord Vetinari was a definite highlight. But other than that there isn't much to recommend about this film.
Stuart McCunn
a good fantasy mini series that i really enjoyed. im not to familiar the terry pratchet but this story kept me intrigued the entirety of it. nice characters and plot for it all and a cool way things were invented in the post office. a good watch for the family since its tame on everything involved within it.
Bill Regan
½
Despite Claire Foy's charms and Charles Dance's best efforts, Going Postal simply doesn't begin to live up to Terry Pratchett's book. David Suchet is a brilliant actor, but he just isn't Reacher Gilt, and Richard Coyle just can't pull off the devil-may-care attitude of lead character Moist Von Lipwig. That said, it's the utter disregard for the story and numerous fundamental plot changes that ruin this attempt... and some of the changes have ruined any attempt to put later Lipwig stories on film. At best this production is "based on" Pratchett's novel, and in a series of over thirty books (to date), "based on" is nowhere near good enough.
Snozz Wanger
Going Postal Quotes
There are no approved quotes yet for this movie.
Discussion Forum
Discuss Going Postal on our Movie forum!