GoJoe: Spirit War Chronicle
(2004)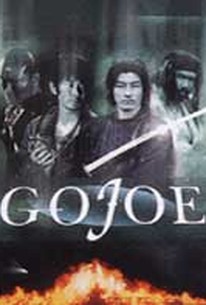 AUDIENCE SCORE
Critic Consensus: No consensus yet.
Movie Info
Rating:
NR
Genre:
,
Directed By:
On DVD:
Runtime:
Critic Reviews for GoJoe: Spirit War Chronicle
All Critics (1) | Fresh (1) | Rotten (0) | DVD (1)
Eclipsing its violent battles with haunting metaphysics, Gojoe is a Japanese period piece like no other. Bleak, apocalyptic and demonically intense, it is a film to watch at the end of the world.

Audience Reviews for GoJoe: Spirit War Chronicle
I love kungfu and action films even down to the crap at the bottom of the barrel. But this movie really hits a new rock bottom in my opinion. The Blair-Witch-Project-esk fighting sequences are choppy, poorly choreographed, pitifully edited, and spaced extremely far apart between an insanely boring plot. And I have yet to see the sequences "filled with special effects" (as described on the back of the box) unless you count the flaming arrow or the sparse off-camera blood spurts. I give this movie two thumbs cut way off!
Benjamin Linton
[url="http://www.rottentomatoes.com/m/gojoe_spirit_war_chronicle/dvd.php?select=1"][img]http://images.rottentomatoes.com/images/movie/coverv/67/229567.jpg[/img][/url] [font=Palatino Linotype][size=4][i]Gojoe[/i] is a special effects, samurai fantasy starring one of my favorites: Tadanobu Asano, as Shanao. This film takes us on a two hour and twenty minute ride through one of Japan's popular legends.[/size][/font] [font=Palatino Linotype][size=4]Something mysterious is decapitating samurai from the Heike clan at Gojoe Bridge. It's fast, unseen, and ferocious. A master swordsman and former ruthless killer, Benkei (Daisuke Ryu), has devoted the past seven years of his life to Buddha. Shanao is one of two surviving children to the fallen Genji clan, a clan that was slaughtered by the Heike. (Read my [url="http://www.rottentomatoes.com/vine/journal_view.php?journalid=174381&entryid=136102&view=public"][i]Kwaidan[/i] review[/url] for more information on a source for this legend). A priest prophesies two stars on a collision course. They are both evil, and both are about to be at war.[/size][/font] [font=Palatino Linotype][size=4]Benkei believes that his calling is to go to Gojoe Bridge to slay the demon that's beheading samurai. Prince Shanao and his siblings hide in a nearby forest, meditating and waiting. After many obstacles, Benkei finds himself ready to face Shanao at the bridge. And what ensues is a battle between two evil forces.[/size][/font] [font=Palatino Linotype][size=4]This film is truly a special effects feast, but not in the overdone and banal way to which we are accustomed. The effects are a necessity rather than a luxury. The story is terrific, and the pacing is outstanding. There are no dead spots, or confusing progressions. [i]Gojoe[/i] is a great slice and dice samurai film, with a well written script, and awesome acting. And I just love Asano.[/size][/font]
joshua d
GoJoe: Spirit War Chronicle Quotes
There are no approved quotes yet for this movie.