Gone with the West (Little Moon and Jud McGraw) (Bronco Busters )
(1975)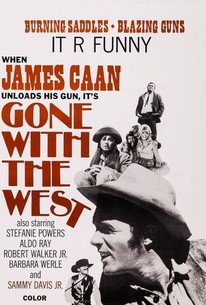 AUDIENCE SCORE
Critic Consensus: No consensus yet.
Gone with the West (Little Moon and Jud McGraw) (Bronco Busters ) Photos
Movie Info
An all-star cast including James Caan, Stefanie Powers and Sammy Davis, Jr. headlines this shoestring-budget revisionist western from 1975. Caan stars as Jud McGraw, a cowboy unjustly framed for a crime he didn't commit; he partners up with an ethically wronged Native American woman named Little Moon (Powers). In response to the ills they have each suffered, the two set off to wreak vengeance on a small western town. Onetime Alfred Hitchcock Presents directorial mainstay Bernard Girard helms.
Rating:
R
Genre:
Directed By:
Written By:
On DVD:
Runtime:
Studio:
ANE Home Video
Critic Reviews for Gone with the West (Little Moon and Jud McGraw) (Bronco Busters )
There are no critic reviews yet for Gone with the West (Little Moon and Jud McGraw) (Bronco Busters ). Keep checking Rotten Tomatoes for updates!
Audience Reviews for Gone with the West (Little Moon and Jud McGraw) (Bronco Busters )
Released in 1975, and starring James Caan, my guess is that Mr. Caan likely doesn't have it high on his resume list. Neither, I suppose would Stephanie Powers. As for [url="http://thepassionatemoviegoer.blogspot.com/2008/09/cinema-obscura-tony-richardsons-death.html"]Aldo Ray[/url] [who went on to do a quasi-porn film, [url="http://www.imdb.com/title/tt0079975/usercomments"]Sweet Savage[/url] a year in 1979] but most of his filmographies don't list it. Sammy Davis, Jr. often appeared as a comic foil, so maybe would not have minded the credits. The film got a PG Rating. how the film makers got that when there is a cockfight, a simulated rape scene -- these both early in the film -- and lots of pawings about in a brothel/saloon is beyond my understanding but, oh well. In some measure, the review is more about the writing, direction, even the theme song,than about the acting, which is ham-handed and [sometimes] silly. There is precious little dialogue. The principals - Caan as a wronged cowhand Jud McGraw, and Ms. Powers as Little Moon, a Spanish speaking half-breed [it is she who gets gang raped] - don't understand what each other is saying body language becomes a more important communication tool. with such sparse dialogue, it is odd to see two writers assigned to the project. Both with histories in television series; one apparently at the end of his script writing career [[url="http://www.imdb.com/name/nm0543344/"]Monroe Manning[/url] - Lassie, Flipper, The Witnesses], the other [[url="http://www.imdb.com/name/nm0829343/"]Douglas Day Stewart[/url] - Bonanza, Room 222] went on to write and co-produce [url="http://www.imdb.com/title/tt0084434/"]An Officer and a Gentleman[/url], so this piece of celluloid shrapnel didn't kill his career. Then there was the music: at least three times the hymn "Abide with Me" was sung be a scruffy looking counter tenor, always as a preface to a funeral, none of which were maudlin. And a Theme song about "What a Man has to be," with repetitive inane lyrics that spoke to the unfairness of life, and how men had to be men and deal with things in a manly way, even if it was unpleasant. [[i]this maybe was to help explain the many bar brawls and a wrestling match that showed me from where some of the World Wrestling Entertainment moves were born[/i]] Finally, I want to say a little about the print copy I watched. Although the movie was originally filmed in color, the folks in China who were violating copyright protections to burn the DVD had a dark, grainy sepia-toned version that could pass for intentional but every now and again a strong red or blue would stand out. This dark, at times, almost opaque quality of the image, actually served to increase its unintended humor aspect for my friend and I. I am guessing that it is bootleg from the "[font=arial narrow][size=2][b][url="http://www.digiviewus.com/"]Digiview Entertainment Made in China[/url][/b][/size][/font] with the copyright protection extending only to the DVD cover art. Would I watch it again? You betcha! Am I glad I didn't pay full price to see the film in a theater? You got that right. But for 50 cents per film with the price to go down per each time viewed, as they say at VISA, "[i]priceless[/i]!.
Will Brady
If you are looking to watch a good western, look elsewhere. The acting stinks. The fight stunts are phony. And the plot tired. The other reviewer went to great lengths to describe this film. Not worth my time.
John Keller
½
This is a low budget western that looks like a TV show instead of a theatrical movie. It's got enough women with bare buts to get an R rating but otherwise it would be PG. The stars are James Caan and Stefanie Powers. They and a few other good actors must have needed some cash. The movie was made in the mid 1970's. The good actors were either at the end of their carriers or just before their breakout roles. After the opening credits (that looked like the opening credits of a TV show) they stuck in a beginning and end set in modern times about a newspaper reporter who is assigned to write a story about the old west. He drives out into the desert to visit old ghost towns. He meets an old lady who tells him a story for $5. I had forgotten how much money $5 was in the 1970's. There's been a lot of inflation since then. The old lady's voice became the narrator for the rest of the movie. You can always spot a bad movie when they have to have a narrator to explain the story. This is just a story about a guy trying to get revenge on a gang of outlaws in a small desert town. In the process he and Stefanie Powers destroy the town over the length of the 90 minute movie. In the whole movie James Caan never speaks a complete sentence and Powers speaks in gibberish the whole movie. I think they were trying to be funny but they weren't. They just run around in the same rock formations that Captain Kirk and the Star Trek crew chased aliens. I can only think they planned on dubbing this movie in several languages and showing it overseas. In the 1970's there were still a lot of drive-in movie theaters and a lot of small town and small neighborhood theaters that would show a cheap movie like this. They are all closed now but this would be like a straight to video movie today. After Blazing Saddles came out Hollywood didn't take the western seriously and this move is just an example.
Donald White
Gone with the West (Little Moon and Jud McGraw) (Bronco Busters ) Quotes
There are no approved quotes yet for this movie.