Gonin (The Five)
(1995)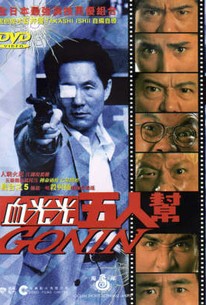 Movie Info
Get Carter meets Heidegger in this slick, two-fisted gangster epic brimming with furtive sex and shocking violence. The film centers on five poster-boys of Japan's post-bubble economic malaise: Bandai (Koichi Sato), the owner of a once popular nightclub who's up to his fashionable lapels in debt to the yakuza; the gay extortionist (Masahiro Motoki) who loves him; Ogiwara (Naoto Takenaka of Shall We Dance fame), a downsized salaryman on the brink of mental collapse; an drug addict ex-police detective just out of stir (Jimpachi Nezu); and failed prize-fighter turned spastic pimp (Kippei Shiina). Each has a beef with the yakuza, most particularly Bandai, who is daily taunted and threatened by the unruly thugs. He organizes the motley crew and raids a yakuza office, and not only manages to make off with almost a hundred million yen but humiliates the thugs in front of their syndicate boss. In retaliation, the mob hires a hitman (Takeshi Kitano) who sports an eyepatch and works with ruthless efficiency, killing the five -- and those closest to them -- one by one without pity or remorse. ~ Jonathan Crow, Rovi
Rating:
NR
Genre:
, , ,
Directed By:
Written By:
In Theaters:
On DVD:
Runtime:
Critic Reviews for Gonin (The Five)
All Critics (6) | Fresh (5) | Rotten (1) | DVD (2)

Ozus' World Movie Reviews
[A] dark, pounding exercise in mayhem, revenge, nihilism and despair in contemporary Tokyo.
Film Journal International
Audience Reviews for Gonin (The Five)
½
Draggy and muddled in parts. Thankfully the cast is great and the abundance of child murder, man rape and squibs make for a swell time. I actually prefer the sequel though.
Isaac Joslin
½
Beat Takeshi stars in this heist film gone wrong that stands above almost all others, ranking right up there with Rififi.
Del Harvey
½
Wow I'm still in shock of what have i just seen. Now I've seem Japanese films in my time but nowhere coming close to shock me like gonin did. Gonin is a dark, bleak film about society and how it affects the characters in the film desperate to get out of the trouble life they live. The only reason i got intrest of this film is that I heard Takeshi Kitano is in the film and he was given top-billing the DVD Cover so i had to see this film. but never the less let me get to the plot of the story. The Films begins in a resession Tokyo. Bandai, a club owner is in debt with the yakuza since business is going bad for him and hasn't come up with the money yet. coming out of ideas, Bandai comes with a plan to rob the yakuza of their money and gets five guys into the heist. Hizu, An Ex-Cop. Jimmy, A mentally challenged Pimp who is in love with a thai girl. Ogiwara, An Insane salaryman who has completely lost his mind for unknown reasons. And Mitsuya, A homosexual who just got out of jail and has a thing for bandai who is also gay. The heist goes out of control as though they get away with the money. The Yakuza find out Bandai and his boys had something to with this. To get revenge, They hired two Hitmen(One of them is Takeshi Kitano). who are also gay lovers as well. as one by one, The Hitmen killed each member and anfamily as they show no pity or remorse as they get close to the two last surviors. can they escape the hitmen's path or be shot down till there's nothing left of you. I will plot wise this is just another basic plot but added with some twist in as well. there were so many scene in this film that go me so shocked and confused i was about turn this movie off. another thing for people who think your going to watch an action film forget it there's barely any action scenes and most of it takes place during the end.though there is one scene in the film i'm not going to ruin the surprise but this scene alone shocked me for days. not one movie has done that to me ever so this why i see this movie as something unique. Gonin's Best aspect is Visual. We are given so much beautiful shot of a run-down Tokyo at night. oh yeah be also this film is very dark. I'm I bearly saw any of the characters and this was done intentionally to bring that mood into the film. I was impress of the atmosphere the film brought and stayed with me till the end. On the Acting side: Everyone fits into their role so well they all come across as believeable. everyone brings the emotion and darkness into their character Dispite the fact i don't recongize any of these actor and i watch japanese cinema but outta of all the actors the ones who steals the show and give the best performances are Takeshi Kitano and the guy who played Mitsuya as well. But this film does have it's flaws. At times the film often lags in some parts also disturbing the pace of the film. plus the lack of likeable characters. the majority of the characters are so dispiseable the only character i liked was Jimmy i felt sympathy for this character but it's a shame he wasn't given bigger screen time he was only character that actually brought light into this film. nevertheless this film is enjoyable, but if your looking for any john woo type of film look elsewhere.
Jonathan Vargas
Gonin (The Five) Quotes
There are no approved quotes yet for this movie.
Discussion Forum
Discuss Gonin (The Five) on our Movie forum!