Gonin 2, (Five Women)
(1996)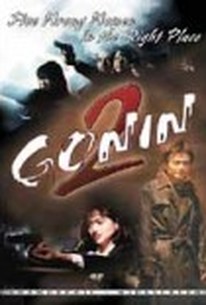 AUDIENCE SCORE
Critic Consensus: No consensus yet.
Movie Info
Following up on his 1995 violent crime-thriller Gonin, Tadashi Ishii adds sex into two-fisted mix of action and bloodlust: instead of a quintet of disenfranchised guys, this go-around features five very angry women. Small factory owner Masamichi Toyama (Ken Ogata) is deeply in debt to the local yakuza. One night, while returning from buying his wife a birthday present, he comes home to find the mobsters demanding payment. They rape his wife and beat him as a warning. The incident drives his wife over the edge: she frantically starts looking for the lost birthday present and then that night hangs herself. Like in the first movie, Toyama sets out to strike bloody revenge against the yakuza office. Meanwhile, the film catches up with four women in similarly desperate straits: Ran (Kimiko Yo), an out of work former owner of a fitness club; Sayuri (Shinobu Otake), an aging hooker with few prospects; Shiho, a housewife who just discovered her husband in mid-philander; and Saki, a low-rung corporate drone who is still traumatized by memories of a childhood rape. The four find themselves in the midst of a daylight robbery of a high-end jewelry store. While the ski-masked thieves busy themselves with grabbing as much loot as possible, the office worker zaps one with a tazer while the housewife bashes another on the head. Chaos breaks out and soon the four, along with a store saleswoman (Mai Kitajima), are fleeing place with jewels in hand. Having laid waste to the Mob lair and still brandishing a bloodied weapon, Toyama staggers to the store, looking to buy his dead wife the diamond ring she longed for, only to get swept up in the melee. Soon Toyama and the five women are fending off vengeful yakuza and enraged jewel thieves. ~ Jonathan Crow, Rovi
Rating:
PG
Genre:
,
Directed By:
In Theaters:
On DVD:
Runtime:
Cast
Critic Reviews for Gonin 2, (Five Women)
All Critics (0) | Fresh (0) | Rotten (0)

Audience Reviews for Gonin 2, (Five Women)
½
Not a direct sequel to the same directors' brilliant original, just a rehash of the same themes and similar story except this time with a group of women as the protagonists. And just like the original film it's dark, gritty and violent. The characters weren't as intriguing and the story was a bit hectic and littered with unlikely coincidences. Solid film overall though if you enjoy urban Japanese thrillers.
½
Better than the original. A more focused story and a stronger emphasis on sexy violence. The ending is a bit of a head scratcher, but whatever.
Isaac Joslin
Discussion Forum
Discuss Gonin 2, (Five Women) on our Movie forum!
News & Features