Good Intentions
(2010)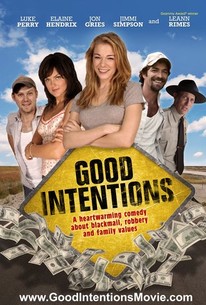 AUDIENCE SCORE
Critic Consensus: No consensus yet.
Movie Info
When a frustrated mother sees her life saving slipping away, she turns to a life of crime in order to ensure her family's financial stability. Etta Milford (Elaine Hendrix) is the last woman you'd expect to find holding up a convenience store with a shotgun, but when it comes to protecting her family all bets are off. Now, in addition to armed robbery, she's blackmailing the local sheriff and taking advice from a small-town stripper. It may not be the most conventional path to happiness, but if Etta can just avoid winding up in prison, she might just manage to pull her family together once and for all. Co-starring Luke Perry, Jon Gries, and LeeAnn Rimes.
Critic Reviews for Good Intentions
There are no critic reviews yet for Good Intentions. Keep checking Rotten Tomatoes for updates!
Audience Reviews for Good Intentions
This is a fun, light-hearted film about a small town with quirky characters. It tells the story of Etta Milford (Elaine Hendrix), a loving mother and wife struggling to make ends meet. Hubby Chester (Luke Perry) runs a liquor store but is constantly frittering away the family's savings on his half-baked inventions. Increasingly stressed out by her family's circumstances, Etta decides that the only reasonable course of action is to resort to a life of crime but her decision to invest her ill-gotten gains in "antique" furniture sold by the creepy Zachary (Gary Grubbs) leads to dire consequences for herself and her family.
That good ole country folk accent/dialect/slang sounds kinda fake & forced when good ole country folk invoke it. Let alone Hollywood. After Chester from Gunsmoke perfected it & was finally laid to rest, we shoulda all relented all resistance to MidAmNewsAnchor assimilation & killed off that twang whenever it tried to escape its in-grown reversion. Neow thit piture shoe... Didn't make a lick a sense thet I cood shake outta it one way tother. One theeng sher, That wife a hin shear pecked uhp quick how to shake down ever ma'n in town. Ayn see did't by turn'n 'm agin one tother An doin they drty work on eetch another into one tidy litle hiest before sett'n inta trust'n her husband's inventive genius to get the kids through college. Is it cause she's so smart? Ore... cause this movie's so dumb? 3 guesses just in case you may need them.
Ken Lundgreen
½
Nice, cute and well done film. Not exactly a blockbuster, but more than charming enough to be enjoyable. LeAnn Rimes is really coming along with her acting abilities, too. I am glad that I came across this.
Cynthia S.
Super Reviewer
Good Intentions Quotes
There are no approved quotes yet for this movie.
Discussion Forum
Discuss Good Intentions on our Movie forum!