Good for Nothing
(2012)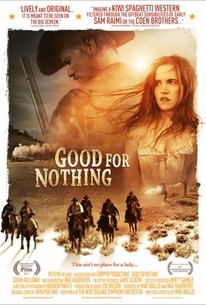 Movie Info
Inspired by the Spaghetti Westerns and celebrating the Western genre with an interesting twist, Good for Nothing follows an odd romance and the resulting emotional confusion of an outlaw who reluctantly develops strong feelings for a woman he has kidnapped. Yet when the outlaw (Cohen Holloway) tries to force himself on the young and beautiful Isabella Montgomery (Inge Rademeyer), he finds himself unable to 'get it up' due to a surprising bout of performance anxiety. Unable to understand the reason for his erectile dysfunction, the outlaw goes on a quest to find a solution for his problem with the kidnapped Isabella in tow. But the pair are pursued by an unpredictable posse who are set on killing both the outlaw and Isabella, who they have mistaken for a whore and accomplice to the outlaw. -- (C) Official Site
News & Interviews for Good for Nothing
Critic Reviews for Good for Nothing
Audience Reviews for Good for Nothing
½
Unfortunately, Good For Nothing's references and aspirations are a bit higher than what is actually on the screen.
Lee Mayo
Mike Wallis' Good for Nothing isn't good for much.
Part of the story is fit for a comedy, but this film isn't funny at all, which includes the scenes where it seems like it's trying to be. The plot really takes a while to pick up with very little in the way of dialogue; by the time the lead characters reveal a portion of themselves, it is already deep into the film and it seems late, granted the run time is just under 90 minutes.
The western style shootings aren't exciting or stylized much in any way shape or form, which probably pushes them toward the realistic side of things, despite some terrible aiming from the shooters.
For most of the film, there is no hero and the villains are just plain forgettable. Cohen Holloway and Inge Rademeyer do show some potential, but the writing really holds them back.
There isn't much to say about Good for Nothing, except to let it be and take a chance on something else.
½
120603: My very first impression in watching this movie is that it was going to be a cheap, direct to video western. Something about the initial train scene made me think that, perhaps the fact the train was so clean and perfect. Once the violence commenced however, this film became down right enjoyable, gritty, perhaps one of the grittiest character portrayals I've ever seen. Be warned, this film is violent and touches upon a somewhat surprising topic. For many reasons, I can't see any woman liking this movie but I can see why the critics mention an air of comedy (that position only came after further reflection.) There are some good lines. This film reminded me at times of "Unforgiven", in that Cohen Holloway's character is similar to Clint Eastwood's William Munny, terribly dangerous and morally corrupt but noble in some way. Don't get me wrong, he may have some endearing qualities but "The Man" is not a good guy. He's mean, self-serving with psychopathic qualities. Some of his thought processes and actions struck me as downright reprehensible but he would no doubt fool the naive and walk the revolving door that is our current legal system (hey, did I just get in some sort of rant?) Even with the well-intentioned actions at the conclusion, "The Man" strikes out as a human being. In some twisted way this film is supposed to be a love story, but it simply is not, and I won't be convinced otherwise. I found Inge Rademeyer's character, Isabella, annoying somehow. Perhaps it was her meek nature but more than likely, it was her accent; which kept me thinking the film took place in Australia, or New Zealand, but certainly not the United States (she's supposed to be British). Don't take any of my criticisms wrong, I liked this film. The violence is striking, no holds barred, unexpected and intense. Loved the sound effects, in particular the report of the firearms. There are some amazing landscapes, great costuming and wild characters. Some aspects of the shootouts were also well done, the missed shots for example, but I hate it when characters drop with one hit (I accept the head shots.) Overall, this movie nicely filled that lack of modern westerns void that I seem to be blessed with. Sweet.
John Redshaw
Discussion Forum
Discuss Good for Nothing on our Movie forum!