Good Hair
(2009)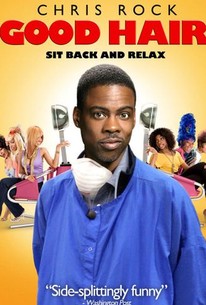 TOMATOMETER
AUDIENCE SCORE
Critic Consensus: Funny, informative, and occasionally sad, Good Hair is a provocative look at the complex relationship between African Americans and their hair.
Movie Info
"Good Hair" is an insightful and entertaining, yet remarkably serious, documentary about African-American hair culture. An exposé of comic proportions that only Chris Rock could pull off, "Good Hair" visits hair salons and styling battles, scientific laboratories, and Indian temples to explore the way black hairstyles impact the activities, pocketbooks, sexual relationships and self-esteem of black people. What Rock discovers is that black hair is a big business that doesn't always benefit the black community.
News & Interviews for Good Hair
Critic Reviews for Good Hair
Audience Reviews for Good Hair
Interesting insight into a morally questionable industry, but as a whole it's uneven, focusing too much on the spectacle of the industry's annual trade show at the expense of the in-depth interviews about what words like beauty, confidence, natural, etc. mean and the connection to one's hair. Worth seeing once for the revelations about "Indian Hair" and the chemical composition of hair relaxant alone... not to mention Chris Rock's stated motive of trying to figure what to tell his daughters about their own hair.
Daniel Perry
Super Reviewer
½
Recommended by a good friend, this is an insightful, amusing, and rather fascinating documentary about the world of hair, specifically the hair of black women, and its important role in African American culture. Presented and narrated by comedian/actor Chris Rock, who decided to do this documentary after his young daughter asked him, "Why din't I have good hair?", Rock interviews a number of celebrities, business owners, and casual people as he tries to figure out the obsession with hair culture. It is amusing, but there are some serious undertones, specifically the incredibly dangerous effects of using various chemicals, specifically relaxer to give someone straight hair. There is some deeper subtext buried within the proceedings, but the film and Rock himself oddly shy away from asking the really important, but tough questions that really get to the hair of the issue, namely exactly why it is so important for black women to have 'white' hair. That's what keeps the film from being really great. It is a good intro to the subject, and it covers a lot of bases, but it really doesn't scratch the surface, and also neglects to look at parts of history that could have really given a lot more insight as well as answers. I personally want to know how Civil Rights and Black Power affected the hair issue, and see the development of why it evolved away from that. I'm okay with levity, but I think the film took too much of a diversion by putting a lot of focus on the ridiculously absurd hair competition, and not enough focus on the darker side of things. I mean yeah, the competition still reveals how big of an economic impact black hair makes on the hair care industry, but still, it gets pretty absurd. Overall though, I did like this. It is a very fascinating topic, and, despite the film's faults, I do think you should give it a watch. Rock does a decent job and tackling a rather tricky issue. I think Spike Lee could have given it the kind of treatment I was expecting, but then again, he may have taken it a bit too far for my liking in that direction as well. Anyways, give it a look. It's pretty decent.
Chris Weber
Super Reviewer
½
A film not only on the amazing nature of African American hair and its qualities, but also the industry that takes in billions of dollars a year in order to assimiliate the populus. Delving into everything from the Bronner Brothers Hair Show in Atlanta which holds the most absurd of competitions, India where most of the hair that goes into weaves is cut and sewed, and bringing out tubs of relaxer that can dissolve a soda can in four hours, this film covers all the bases of a good documentary. Great interviews by African American performers, business owners who are part of the hair movement, and a scientist unknowing of the true use of a chemical so deadly it melts the skin off raw chicken. With a societal scope and being highly intellectual this funny film about what it means to be a woman in our country drastically alters what good hair defines in a person and a race.
Spencer S.
Super Reviewer
Good Hair Quotes
There are no approved quotes yet for this movie.