Good Morning (Ohayô)
(1959)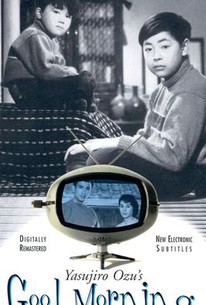 Movie Info
Yasujiro Ozu's Ohayo (Good Morning) is a comedy about a pair of boys who bring much trouble to their family and community by refusing to do very basic activities. The boys desire a television, but their father refuses. They are so insistent that the father eventually commands them to be quiet. They take him quite literally and refuse to speak at all, not even a typical polite morning greeting. Their impoliteness begins to weigh down both the family and the town as it goes against the ordered social structure of Japanese culture. The film is a remake of Ozu's earlier 1932 silent film I Was Born, But...
News & Interviews for Good Morning (Ohayô)
Critic Reviews for Good Morning (Ohayô)
Audience Reviews for Good Morning (Ohayô)
Ozu said he wanted to make a film about people's inability to express the important things, but natter on about unimportant gossip. This all comes out thanks to two boys that really want a TV. They enter into a vow of silence until their TV comes. This silence is misconstrued by the neighbours, who think their mother is angry at them. They begin to gossip amongst themslves and rumors soon start. Meanwhile, the young boys' aunt and teacher are attracted, but fail to act on their emotions. This is a lovely little film, filled with some great humor. Though, I must admit, there was a bit too much focus on the poo/farts jokes. The two boys, especially the youngest, are very cute and make their efforts to get a TV seem less brattish. It's really sweet to see how dedicated the parents are, and even though the kids are kind of mean, they do appreciate the gift in the end. There's no escaping Ozu's look at the clashes between old and new, with the TV looming over all procedures as something that will change life. A little gem, if not one of Ozu's classics.
Luke Baldock
Super Reviewer
what a hilarious film. unlike any film ozu ever made. although this film does focus on his usual themes of family, multiple generations and the evil that is associated with gossip, the film is different in that it is an all out comedy, and one of the funniest films i have ever seen. the comedy brought in by the gossiping neighbors is classic, but the two main kids really steal the film. the film effectively blends potty humor with intelligent and witty dialogue, and even as an american the japanese humor was effective enough to not be lost due to cultural confusions. great comedy.
½
I haven't seen enough of Ozu's to judge this among his body of work, but as funny as it is, Good Morning doesn't just want to laugh at poor folks, but instead is more of a comical view on society. With great attention to detail and very still camera work, it's definitely a meditative film of two boys representing a younger generation that do not want to grow up with meaningless rituals in a world of empty adult chatter. Ozu's film is not suggesting that tv is the answer, rather talking and expressing feelings is.
El Hombre Invisible
Super Reviewer
Good Morning (Ohayô) Quotes
There are no approved quotes yet for this movie.