Good Morning, Night (Buongiorno, Notte)
(2005)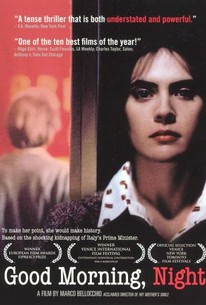 Good Morning, Night (Buongiorno, Notte) Photos
Movie Info
The kidnapping and killing of Aldo Moro, Italy's former prime minister and head of the Christian Democrat party, was a cataclysmic event no Italian can forget. Moro was taken hostage by Red Brigade members in March 1978 and almost two months elapsed while negotiations were pursued in vain. His bullet-riddled body was found on May 9th after a phone call alerted the authorities. In the wake of this shocking crime, Italy teetered on the edge of political chaos.
Rating:
NR
Genre:
,
Directed By:
Written By:
In Theaters:
On DVD:
Runtime:
Studio:
Wellspring Media
Critic Reviews for Good Morning, Night (Buongiorno, Notte)
Audience Reviews for Good Morning, Night (Buongiorno, Notte)
½
A little aimless, but a good story. Lifted by Roberto Herlitzka's seriously touching performance as Aldo Moro.
Adam Williams
½
A fairly interesting film. While I was a bit lost at the beginning, as I am no expert on 1970s Italian politics, I was curious enough to do a bit of research before finishing it.
Mariana Arevalo
To me, the most deeply weird moment of [i]Buongiorno, notte[/i] comes fairly early in the film. Young revolutionary Chiara (Maya Sansa) opens her door to find a neighbour clutching a baby on the other side. The women asks Chiara to take care of the baby while she goes to pick up her other child from school. Chiara, who is awaiting an attack on the government that will bring her into a terrorist plot, refuses. She says there's no way she can do it. For one thing, I'm not sure she knows the woman, and for another, they'll be bringing a hostage into her apartment soon. (Not that she says that latter, of course.) However, the woman basically shoves the baby at her and walks away. I mean, for all she knew, Chiara was getting ready to go on vacation and would be gone for weeks. Who does that? Why are they allowed to keep their children? Chiara is a member of the Red Brigade, an organization determined to bring certain political changes to Italy. Part of their method for doing this involves the kidnaping of Aldo Moro (Roberto Herlitzka), a major figure in Italian politics. They seem to have rented the apartment for just such a reason; it's far too lovely, I think, to be wasted on such a thing. Still, Moro is brought to the apartment and locked in a closet for 55 days. So far, we're pretty much looking at history. However, the important aspect of the story is Chiara and how she changes based on Moro's captivity and her own beliefs. She doesn't want to kill Moro; she doesn't think it will solve anything. On the other hand, she knows that telling her fellow Brigaders (I cannot tell them apart) will accomplish nothing, that their minds are made up. What is most striking about this film, I think, is not Chiara's development as a person. It's not the determination of her fellow Brigaders to get what they believe is their right. It's not the Brigader who has a bourgeois girlfriend, the one who knows better than anyone else how Moro's death will be seen by the common people. It's Moro himself. He knows the odds that he will survive his captivity. He can't even be sure if the letters he is forced to write will be sent to anyone. He writes his family, the Pope, political leaders. He's a minor character in his own story here, but I think he's the emotional center of the film. I also, however, don't think director Marco Bellocchio was trying for that. The film is fairly disjointed, I think. We are supposed to sympathize with Chiara. We are supposed to understand her. However, I think she comes across as a dilettante. I don't think she understands the Brigade's motives. I don't think she understands the Brigade's political necessities. I think she, and the others, have this naive view of what the Italian people want and are like. I think, in fact, it's common of any revolution--this, I think, Bellocchio does recognize. We are supposed to see Chiara recognize this, but I don't think she ever really does. It's true that she realizes that perhaps she doesn't fit in among them, but I don't think she ever realizes the futility of their movement. She knows they're doing it wrong, but I don't think she knows that doing it right might not help, either. I can thank this film for introducing me to a part of Italian history that I didn't previously know, but then, if it doesn't have a Medici involved, I probably don't know it, and the Medicis were long gone by 1978. I don't know if the real Moro was a man of such quiet dignity. I don't think anyone can know what those 55 days were really like for him. His assassins have since been caught, as the closing subtitles--in the English subtitles, at any rate; they do not appear in Italian--inform us. I don't think their movement ever came to anything, and certainly Moro's death was not the revolutionary spark they were hoping for. It's entirely possible nothing would be.
Edith Nelson
Good Morning, Night (Buongiorno, Notte) Quotes
There are no approved quotes yet for this movie.
Discussion Forum
Discuss Good Morning, Night (Buongiorno, Notte) on our Movie forum!