The Good Mother (The Price of Passion)
(1988)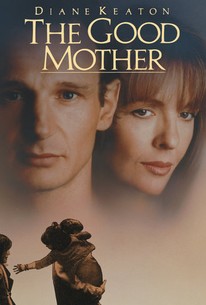 The Good Mother (The Price of Passion) Photos
Movie Info
Anna Dunlap (Diane Keaton) is a divorced mother living is Boston with her 6-year-old daughter Molly (Asia Viera). She supports herself and her daughter by working part time in a lab and teaching piano. Her ex-husband Brian (James Naughton) is a Washington lawyer who has since remarried. Anna meets Leo Cutter (Liam Neeson) and she and the Irish sculptor begin a torrid and passionate love affair. Molly walks in while the two are making love and lies down to sleep next to her mother, oblivious of their act of intimacy. Molly innocently relates the incident to Brian, and the livid lawyer sues for custody of the little girl. An ugly courtroom battle begins, with Leo being accused of molestation of a minor and Anna branded as an amoral, unfit mother. Her attorney Muth (Jason Robards) levels with Anna and tells her she must choose between Molly and her lover. Directed by Leonard Nimoy, this powerful drama is taken from the best-selling novel by Sue Miller.
Critic Reviews for The Good Mother (The Price of Passion)
Audience Reviews for The Good Mother (The Price of Passion)
"The Good Mother" is a bold and daring film that raises a lot of issues but unfortunately only resolves some of them satisfactorily. For a Hollywood movie from a major studio it touches on some very adult themes, and I appreciated its frankness. Screenwriter Michael Bortman doesn't shy away from the taboo subject matter; instead he tackles it head on and that was something I admired. However, you can't help but continually questioning the character's judgment, so much so that it begins to eat away at the picture's credibility. Diane Keaton seems to elect her own happiness over what's best for her daughter, and her and her co-star Liam Neeson maddeningly say every wrong thing they can in the courtroom. There's no way the movie coule end any other way than it does, and once again I applaud the sense of realism, but you still have to challenge these people's warped way of thinking. Keaton gives a predictably strong lead performance, but Bortman never seems to have her best interest in mind. Still, I was intrigued in the proceedings and found the film to be very refreshing in so many ways. The premise involved me, and I was more than willing to follow this every step of the way. Once you get past the baffling opening ten minutes that focus on Keaton's childhood, that is. I'm still not sure what that was supposed to tell us. There is an interesting story here, and "The Good Mother" has a lot going for it, but it also leaves a lot of unanswered questions in its wake. Like its characters, it makes one bad judgment call too many.
Timothy Sanders
½
Starring: Diane Keaton, Liam Neeson, Jason Robards, Ralph Bellamy, and Joe Morton. Directed by Leonard Nimoy. Written by Michael Bortman. Rated [b]R[/b] (for sexuality and language). Running time approximately 1 hour 44 minutes. Here we have a film whose failure is due simply to misdirection. Whoever thought Dr. Spock was a good choice to be the director of a film about a mother's relationship with her daughter, her lover and eventually dealing with a traumatic event, was surely mistaken, and the end product offers proof. The film is well-acted by its leads, but in the end we feel cheated because not enough is explained and nothing truly eventful has happened. Keaton and Neeson are wonderful together, but the film just isn't all there. Something vital seems to be missing. [b]** (out of ****) C[/b]
Christopher Lozier
I just have been too busy goofing off to update lately. I've watched a whole ton of movies. Being in transition employment wise is kinda boring. [b][size=5]The Good Mother[/size][/b] [i]Directed by: Lenoard Nemoy (Yes, THAT Lenoard Nemoy)[/i] [img]http://altura.speedera.net/ccimg.catalogcity.com/210000/214800/214882/Products/8360377.jpg[/img] This is a pretty good movie. It's problem is, and I don't know exactly if this is a problem or not, that it's every bit as interesting as the premise seems, and not even a tad more. Perhaps I knew too much about it before hand. I had previously read 'I Am Spock', Lenoard Nemoy's autobiography, and he talked about this film quite a bit. I got just about exactly what I expected, which was good, but somehow left me a little disappointed. I guess I felt as if I understood all the ideas and themes of the film before I saw it, so it wasn't quite as rewarding. This is a film about a repressed woman from an upper class family with a child who gets divorsed, and after a while, gets into a relationship with a lower class sculpter (played by Liem Neeson) named Leo. He is the opposite of everything her old life was. He is free and open and passionate, while in her previous marrage she was repressed and sexually anorexic. However, their love shortly creates a great problem. They are so passionate and open, they don't bother to hide it around her daughter, and one night, when she awakes with a bad dream and crawls into their bed, they continue to make love after she falls asleep. A little while after this, she, after being told about the facts of life, walks into the bathroom where Leo has been showering, and sees Leo naked. She asks 'is that your penis'? He says yes, and then she asks if she can touch it. He is taken aback, but he knows that her mother is trying to raise her in an open, natural way, so he says OK. She does so, and thus satisfies her childlike curiosity. However, eventually, her father finds out about it, and blows his stack, and tries to get cusdody of his daughter. This is an interesting film about interesting issues. Diane Keton is great, even moreso then usual, and Liem Neeson is also quite good. It's overall a well realized drama, I guess I wish that it had done just a little more, but the film is still reccomended for anybody who finds the premise interesting. It does a good job of showing sociatal oppression without demonizing the people involved, and brings up sensitive sexual and personal issues with class. [b]The Lowdown[/b]: An overall well realized film about sensitive topics that could have been just a little more. [b]Grade[/b]: B [b][size=5]The Princess and the Warrior[/size][/b] [i]Directed by: Tom Tykwer[/i] [img]http://cover09.cduniverse.com/MuzeVideoArt/83/188883.jpg[/img] I really wanted to like this film, and I enjoyed much of it, but it really had almost as many grating and annoying parts, and overbearing style parts as it did good parts. I liked the main characters, and some of the cinematography was fun, but I didn't like the supporting characters, they were almost universally annoying and made poor use of. Also, it had some scenes that just flat out seemed unnessary given the nature of the film. Really, do we NEED to watch UP CLOSE someone getting a treciotomy? Do we really NEED to watch a crazy man eat glass? I mean, I would understand if the tone of the film was to shock, but that really didn't fit with the tone of the film. The end of the film was really weird. I don't want to talk about it, I have my interpretation, but if someone else who has seen the film wants to give me their idea I'd sure like it. Anyhow, this film wasn't horrible, but it was disappointing. [b]The Lowdown[/b]: Fun style and good cinematography, but it is occasionally very grating and the supporting characters are garbage. [b]Grade[/b]: C+ [b][size=5]Lord of the Rings: The Two Towers: EE[/size][/b] [b][size=5](3rd viewing, 4th if you count theatrical cut)[/size][/b] [i]Directed by: Peter Jackson[/i] [img]http://www.compleatseanbean.com/lotr-ttt-ext-dvd15.jpg[/img] While I still have a seething hatred for many of the fans of these films, I've grugingly grown to love them as well, at least the Extended Editions, which are head over heals better. They bring the details and little moments that are required to really create a compelling new world. Anyhow, this is the best of the three, barring ROTK (which was the best theatrical cut) EE being really great. [b]The Lowdown[/b]: Grugingly, these films are great. The EE's really fill it in. [b]Grade:[/b] A (the Theatrical Cut gets a B, FYI) [b][size=5]Badlands[/size][/b] Directed by: Terrance Malick [img]http://www.jpoc.net/movies/b/00/badlands.jpg[/img] So, now I've offically seen all of Terrance Malick's films. To be honest, I think I like this one least, which speaks highly of his films, because this is overall a very good film. Like his others, it's slowpaced and atompsheric, and has strong acting and strong characters. It's about a man in his twenties who falls in love with a 15 year old girl, and after being split apart by her dad, run away and, basically, kill anybody who gets in their way. He doesn't kill vengefully, or out of hatred, it's more as if he is just hammering a nail, doing a chore. It makes for some very interesting meditations on just who these people are. Anyhow, it's really hard to talk about Malick films. They are so ethreal and dreamy. I'll just say that Spacek shined, and Sheen was good too, and Malick's ability to match music and images in interesting ways is very uniqe and very excellent. I didn't quite enjoy the atmosphere of this as much as I did 'Days of Heaven', and it's themes wern't as grand as 'Thin Red Line', but it's still a rock solid film. [b]The Lowdown: [/b]Atmospheric and well acted. Malick is a true original. [b]Grade:[/b] B+ [b][size=5]Dawn of the Dead[/size][/b] [i]Directed by: Zack Snyder[/i] [img]http://media.movieweb.com/galleries/1026/posters/poster1_full.jpg[/img] This film was plesantly surprising. I just saw the original version within the past 6 months, and was actually a little disappointed at first, but it grew on me the more I thought about it. Anyhow, especially after the atrocious remake of 'The Texas Chainsaw Massacre', I didn't expect much from this. But really, this is about the perfect remake, not in the sense that it's a perfect film, but in the sense that it's a film that keeps similar themes and ideas and takes them in a new direction, it has a new vision for them. This film is more conventional then the original, it has little of the original's satirical elemens and humor, and I didn't think it had quite the vision or the atmosphere. That said, this film is actually significantly more scary in a conventional sense then the original, has better acting (still not great, but not bad) and has it's share of neat ideas as well. I didn't like the 'living dead baby' part, that struck me as a bit much, but that's a minor complaint. The movie, while not quite the visionary film that the original was, is a fine scare film. [b]The Lowdown[/b]: Not as original and satirical as the original filim, but scary and well constructed. [b]Grade:[/b] B [b][size=5]Going Upriver: The Long War of John Kerry[/size][/b] [i]Directed by: George Butler[/i] [img]http://cache.boston.com/globe/nation/packages/kerry/images/day3/01.jpg[/img] I wasn't terribly interested in most of these political documentaries before the election was over, I didn't feel as if it would be possible to judge them objectively, and it still isn't, but this one always looked interesting to me, and I felt after all the hoopla that it would be worth seeing. Unfortunately, this film seems to go against the beliefs I formed after seeing Steve James' excellent film 'Stevie', that being, obviously, it isn't always best to know the subject well. While James went to great lenghts to try to take a hard look at issues in his film, even when they were difficult and uncertain. If this film had taken that tactic, it could have been a great film. It's a well made film about an interesting person and an interesting time by a respected filmmaker. That said, it seems Butler is a bit too close to Kerry to take a hard look at him, even when a strong case could be made for some of his more controversial stances, because this film ends up being little more then a love-letter to former Presidential candidate. The film isn't so much slanted as it is just unthoughtful. It barely scrapes the surface of a lot of difficult issues, and instead of delving into them headfirst, it basically just gives a shiny glossover of just about everything. It feels like a family photo album more then a cold hard look at the facts. I knew most of what it said already, and what I did learn wasn't well examined. I'm not going to hide the fact that I didn't vote for Kerry. But I will say that, while I disagreed with him politically, I do think that he was a war hero, and while I don't agree with everything he did after the war, I understand his reasons, and at least to a certain degree, admire his courage in doing so. Certainly, a more compelling, more in-depth study could be done of his relationship to Vietnam. The issues at hand deserve a more thoughtful study then this glossy scrapbook. It's a shame this film wasn't what it could be. [b]The Lowdown[/b]: A film about an interesting time and an interesting man that, unfortunately, gives a scrapbook gloss over to interesting issues and an interesting man. [b]Grade[/b]: C Whew! Oh well. Actually, I saw a few of these before the last update, and just forgot. Hopefully my next one will be shorter. tata for now.
Cliff Smith
The Good Mother (The Price of Passion) Quotes
Discussion Forum
Discuss The Good Mother (The Price of Passion) on our Movie forum!