A Good Night to Die
(2003)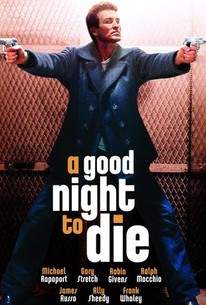 AUDIENCE SCORE
Critic Consensus: No consensus yet.
A Good Night to Die Photos
Movie Info
This crime comedy from director Craig Singer is the filmmaker's third independent feature and his second outing with screenwriter Robert Dean Klein and star Gary Stretch, who had contributed to 2001's Dead Dogs Lie, Singer's sophomore effort. Stretch plays Ronnie, a hitman who, three years prior, vouched for his pal and fellow contract killer, August, played by Michael Rapaport (Zebrahead, Mighty Aphrodite). Unfortunately for Ronnie, over the years, August has gotten himself into some trouble and made a few enemies. Now, over the course of one day, Ronnie has to somehow clean up all of August's messes or both men will be facing the consequences of their unhappy bosses. In addition to Frank Whaley and Seymour Cassel, the supporting cast boasts a bevy of 1980s artifacts including Ralph Macchio, Robin Givens, Deborah Harry, and Ally Sheedy. A Cold Day in August screened at Robert De Niro's 2003 Tribeca Film Festival under the title A Good Night to Die.
Rating:
R
Genre:
, , ,
Directed By:
Written By:
In Theaters:
On DVD:
Runtime:
Critic Reviews for A Good Night to Die
All Critics (3) | Top Critics (2) | Fresh (0) | Rotten (3) | DVD (3)
Los Angeles Times
Top Critic
The minor pleasures of A Good Night to Die are offset by its familiarity.
Hollywood Reporter
Top Critic
Singer has a nice knack for mixing quirkiness with violence, but hasn't yet mastered how to pull it all together.

Audience Reviews for A Good Night to Die
This movie is not worth watching. A lot of foul language. There was a few killings for reason unknown. I would not recommend this movie
Bill Jacobs
I enjoy weird movies, the more involved and unpredictable the better. Tarkovsky, no problem. Lynch, bring it on. Rivette, Godard, Waters, I'll take it all. But the other night I saw a film that baffled me. I wasn't sure if it was intelligent or a cockeyed mess. It was something called "The Attic Expeditions", a horror movie about a man who murders his fiancee during some kind of Satanic ritual and wakes up four years later in a hospital. He is sent to a sort of halfway house for crazy people where he meets other strange folks and bizarre, bloody stuff starts to occur, some of it involving a trunk in the attic that has a flight of stairs inside it. You're never quite sure what's real and imaginary in this movie. The protagonist is being constantly observed by the director of the hospital but he seems to be watching the guy in the house at the same time we see him on an operating table with electrodes attached to his exposed brain. I haven't even mentioned the dungeon inside the trunk or the reappearance of the dead girlfriend. There are a couple of my favorite actors making this at least humorous, Seth Green and Jeffrey Combs, but what the hell is going on? Damned if I know. Haven't seen much since I've been staying away from the video stores but I was really moved by "Hilary And Jackie". I know this movie was an also-ran in the year end prestige sweepstakes when it was first released but it deserved better, and Emily Watson should have gotten a bunch of Best Actress Oscar votes for her work. This one inspires me to go out and look for some of Jacqueline Du Pre's CDs, like I needed another reason to buy music. I will be grabbing something at Potomac Video tomorrow. I may look for a movie called "Lawn Dogs" that I hear is good. (Actually I'll be looking for it because I read that Angie Harmon has a nude scene in it.)
Jerome Wilson
A Good Night to Die Quotes
There are no approved quotes yet for this movie.
Discussion Forum
Discuss A Good Night to Die on our Movie forum!