Good Ol' Freda
(2013)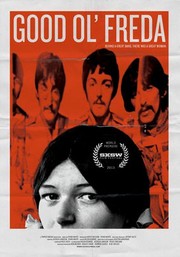 Tickets & Showtimes
Good Ol' Freda Trailers & Photos
Movie Info
Freda Kelly was just a shy Liverpudlian teenager when she was asked to work for a local band hoping to make it big. Though she had no concept of how far they would go, Freda had faith in The Beatles from the beginning, and The Beatles had faith in her. History notes that The Beatles were together for 10 years, but Freda worked for them for 11. Many people came in and out of the band's circle as they grew to international stardom, but Freda remained a staple because of her unfaltering loyalty and dedication. As the Beatles' devoted secretary and friend, Freda was there as history unfolded; she was witness to the evolution - advances and setbacks, breakthroughs and challenges - of the greatest band in history. In GOOD OL' FREDA, Freda tells her stories for the first time in 50 years. One of few films with the support of the living Beatles and featuring original Beatles music, the film offers an insider perspective on the beloved band that changed the music industry. (c) Magnolia
more
News & Interviews for Good Ol' Freda
Critic Reviews for Good Ol' Freda
Audience Reviews for Good Ol' Freda
½
Freda Kelly was the Beatles' secretary. A shy, humble girl who's admirably loyal to the band's privacy. Hence, this documentary is deadly uneventful. Even at just 86 minutes, the film seems too long, and Kelly's endless shrugs, giggles and blushes soon turn tedious. The stress on soundbites from forgotten Merseybeat musicians over thoughts from, say, Paul McCartney, Ringo Starr and George Martin is another glaring problem. The score cuts corners by featuring just a handful of Beatles songs and filling the void with earlier songs that the group covered.
½
Many documentaries have been made about The Beatles, so don't go into GOOD OL' FREDA expecting a searing look inside the most popular, beloved band of all time. You'll be greatly disappointed. Instead, this is a film about the loveliness of privacy and integrity. Freda Kelly was an unassuming Liverpudlian teen when she was handpicked to work as the secretary of the Beatles' Fan Club. There when they were unknowns and there when they disbanded, Freda is one of the few in the trusted inner circle who didn't sell her story to the tabloids or write a book. She even gave away priceless memorabilia to the fans or donated it for a good cause.

Ryan White, in fact, was originally asked by Freda to document her story just so she could have a DVD to show to her grandchildren. She wanted them to know that Grandma had perhaps the coolest job of any teenager in the history of the world, Alexander the Great notwithstanding. It is with such humble intentions that he began to sit her down to tell her story.

Although he works with such documentary conventions as chronological storytelling and Ken Burns photo zooms, White gets something very special here. Here's a woman who could spill the beans and give us the goods, yet she steadfastly refuses to do just that, which in and of itself is the most compelling thing about the film. Frankly, I have no interest in sordid details. It's enough to hear from her that John was grumpy sometimes, that George was considerate Paul was fun, and Ringo had a mother she adored. We also are treated to wonderful photos and film from the early days, when the Beatles played a local dive called The Cavern Club. Equally interesting are Kelly's recollections of the Beatles' manager, Brian Epstein. She pinpoints his closeted rage, and very humanely grew to understand him. It's sweet to see a woman of her age display such a caring, open mind and heart.

One could argue that the film gets repetitive when Freda details over and over the volume of fan mail and her endeavors to get the band to sign autographs, but it's her utter sense of decorum and kindness that mesmerized me. How refreshing it is to see a documentary subject not, as they like to say in reality shows these days, "throw someone under the bus". We live in a time where we're accustomed to seeing people be nasty to each other and call it entertainment. White and Kelly's display of basic human kindness is just the jolt I needed. I was privileged to catch a screening of the film with both White and Kelly in attendance. The standing ovation they received felt so genuine. The audience, high on the nostalgia the film evokes, cold barely contain their excitement and gratitude.
Discussion Forum
Discuss Good Ol' Freda on our Movie forum!
News & Features