Good Times
(1967)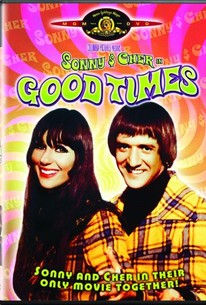 Movie Info
Pop singers Sonny and Cher play themselves in this comedy which centers, appropriately enough, on the duo's efforts to come up with a script for their cinematic debut. Fantasy scenes from potential storylines and numerous musical numbers follow as Sonny pitches his ideas to a reluctant studio head.
Rating:
NR
Genre:
, , ,
Directed By:
Written By:
In Theaters:
On DVD:
Runtime:
Studio:
Columbia Pictures
Cast
Critic Reviews for Good Times
All Critics (7) | Top Critics (1) | Fresh (0) | Rotten (7) | DVD (2)
Hollywood Reporter
Top Critic
New York Times
Top Critic

Chicago Sun-Times
Top Critic
Chicago Reader
Top Critic
Sonny and Cher's only movie together, a minor, self-referential flick in which they play themselves, represents the feature debut of William Friedkin, who four year later won the Oscar for The French Connection

Audience Reviews for Good Times
Well... I remember George Sanders as a villainous kung fu master so hence the rating. and there's songs too I think
Jack Gattanella
On the video box,[i] Good Times[/i] is billed as "Sonny & Cher's ONLY motion picture together!" which is a little inaccurate. [i]Good Times[/i] is the only movie [i]starring [/i]both Sonny & Cher, but the two debuted in something called [i]Wild on the Beach[/i] in 1965. Sonny wrote 1969's [i]Chastity[/i] as a vehicle for Cher and I would think that counts as their making it together. Of course later that same year, another Chastity came along as the result of Sonny & Cher making it together. Sonny & Cher play themselves in [i]Good Times[/i]. Sonny wants to make a movie produced by George Sanders (and who among us doesn't?) and is given final script approval, providing [i]Good Times[/i] the opportunity to package western, jungle and [i]noir[/i] sketches starring Sonny & Cher & the Venemous Fishwife into a feature film. The sketches are linked together by scenes of Sonny & Cher at home in which the leading lady shows absolutely no hint whatsoever of the talent she would later display on screen, coming to life only in her songs. But she looks [i]fabulous[/i]. The songs are only passingly integrated into the plot and the only sketch I remember as having a number is the western. (Actually, said number is something like 9 minutes long and therefore becomes something of a sequence, but I digress.) If I was a betting man (which I'm not), I'd wager that the jungle and [i]noir[/i] sketches had songs as well and that I'd simply forgotten them in the two days that have passed since I watched [i]Good Times[/i], particularly since I don't remember the song in the western, just that it was there and it had a [i]lot[/i] of choreography. As far as the sketches, the western and jungles pieces were as dumb as you'd expect. All I can really add is that Sonny Bono in a loincloth is not as hot as it sounds; and yes, I am aware that it sounds repulsive. The [i]noir[/i] sketch probably wasn't that much better but I enjoyed it nonetheless, mostly because I have such an affection for the genre itself. It's not brilliant by any means, but it sends up the private detective flick goofily enough and it does contain the priceless passage: Sonny: What's the hurry [to get married], you're only 19. Cher: But we've been engaged for seven years. People are beginning to talk. Sonny: Not as much as when we first got engaged. Corny, yes. But it made me laugh. [i]Good Times[/i] is not a good movie, but it's 90 minutes of silly, dumb fun. Yes, it's mostly idiotic and only occasionally funny, but I'd rather sit through this again than [i]The Boys in the Band[/i] or [i]Cruising[/i]. And it's got Sonny Bono in a shoot-out with George Sanders!
Rodolfo Raines
Discussion Forum
Discuss Good Times on our Movie forum!
News & Features