A Good Woman
(2006)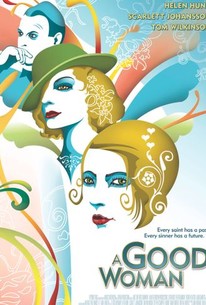 TOMATOMETER
AUDIENCE SCORE
Critic Consensus: This adaptation of Wilde's Lady Windermere's Fan lacks bite due to liberties taken with the source material, coupled with uneven performances.
Movie Info
One of Oscar Wilde's most popular plays is given a new screen interpretation in this period comedy. In New York in the early '30s, Mrs. Erlynne (Helen Hunt) is a widow who lives comfortably through the largesse of several married men, and when she runs out of wealthy suitors in Manhattan, she decides to find greener pastures among the wealthy elite of Italy's Amalfi coast. Mrs. Erlynne sets her sights on Robert Windermere (Mark Umbers), a wealthy Englishman who is married to the young, innocent and very beautiful Meg (Scarlett Johansson). Mrs. Erlynne gingerly tries to separate Robert from his wife and his money, fueling suspicions within Amalfi society as well as the audience that they are involved. Humiliated and ready to beat him at his own game, Meg begins to consider the advances of the handsome Lord Darlington (Stephen Campbell Moore), one of her husband's close friends. In the midst of all the attempted infidelity, the genially eccentric Tuppy (Tom Wilkinson) struggles to win Mrs. Erlynne's hand, while only one of the interconnected parties know that she carries a shocking secret. A Good Woman was based on Wilde's +Lady Windermere's Fan, with its title drawn from that show's subtitle, "A Play About a Good Woman."
People Who Like this movie also like
Critic Reviews for A Good Woman
Audience Reviews for A Good Woman
A woman suspects her husband of infidelity when an older woman who has a sullied reputation comes to town. Why do modern directors and writers think they are smarter than some of the best writers in the English language? In this case, Oscar Wilde's great play Lady Windemere's Fan gets distorted, the worst sin coming in the third act of the film. In addition to alterations in the plot, writer Howard Himelstein interjects some of Wilde's random witticisms into the script; for example, there is little reason why America being the only country to go from barbarism to decadence without civilization in between should be included in the film. It's funny, of course, but out of place. Helen Hunt does not deliver a strong performance. I often thought that Wilde's sophisticated dialogue puts Hunt out of her element, and Scarlett Johannson isn't much better. Obviously the Britons, Tom Wilkinson and Stephen Campbell Moore aren't similarly affected. Overall, the source material is strong, but the film isn't.
Jim Hunter
Super Reviewer
What a strange title... almost all the women pissed me off in this movie. I take that back; all the characters pissed me off. There is so much deceit, cheating, and dishonesty going about this plot that we, as the audience, don't know who to root for. There's a group that are the gossipers, Helen Hunt's the seductress, Scarlett Johansson wavers between loyalty and betrayal, and worst of all, Stephen Campbell Moore tries his hardest to break the bond of marriage to satiate his want to sleep with a hot girl. Yeah, you heard me; Campbell Moore says that he does it for the sake of "love" but I call it a booty call, and I make that assumption based on his annoying ass character's mannerisms and actions. What particularly annoyed me the most was how almost everyone within this movie was NOT genuine until the movie decides to wrap everything up with a happy, feel-good ending. "A Good Woman" is put together sloppily with very generic techniques that add nothing to the subpar plot with some of the most annoying side characters I've seen in a very long time. This movie is not worth a watch.
Albert Kim
Super Reviewer
Film Crazy
Super Reviewer
A Good Woman Quotes
| | |
| --- | --- |
| Contessa Lucchino: | Crying is the refuge of plain women. Pretty women go shopping! |
| | |
| --- | --- |
| Lord Darlington: | Marital bliss is a great burden to place on two people.Sometimes a third person is needed to lighten the load. |
| | |
| --- | --- |
| Tuppy: | Oh, I like a good read myself. But nothing too laborious. I don't want to tamper with natural ignorance. It's the key to happiness. |
| Mrs. Erlynne: | Do you really think so? |
| Tuppy: | Oh, absolutely. Good health, it's important but ignorance is the key. Too much knowledge and you're doomed. |