Goodbye, Columbus
(1969)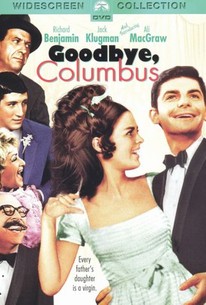 Movie Info
This romantic comedy finds ex-Army veteran Neil working as a poor librarian. He falls for Brenda, a spoiled Jewish princess from a wealthy family. When Brenda invites Neil to spend two weeks at her parents estate, her father is constantly after Neil to make something of his life and career.
Rating:
PG
Genre:
,
Directed By:
Written By:
In Theaters:
On DVD:
Runtime:
Studio:
Paramount
Critic Reviews for Goodbye, Columbus
Audience Reviews for Goodbye, Columbus
½
★★★ (out of four) A smartly written and witty adaption of a 1959 short novella by Philip Roth. It works as well as it does mainly because of a dry and appealing performance from Richard Benjamin and a perky Ali MacGraw. Richard Benjamin plays a man who falls for a Jewish-American girl (Ali MacGraw). Her family is dead set against the relationship so the young couple sneak off to dingy motels at every chance they get. It's not long before they find them out. A fun film. Watch closely for a young Jaclyn Smith in a non-speaking role. [IMG]http://img.photobucket.com/albums/v48/Zeppo1/Goodbyecolumbus.jpg[/IMG]
Steve Smith
I really got into this movie. All of the artistic choices are so strange and off-kilter that they really worked for me. This film is unlike most other films, all the little details are just so unique that it makes the viewing experience really special.
Matt Kendrick
80/100. One of my older co-workers is recommending older movies for me to watch, and I enjoyed this movie. The title comes from a song that Ali MacGraw's brother used to listen to all the time... the song sounded more like a radio commentator signing off from an Ohio State college football game (where he went to college and where he met his wife). Ohio State's school is located in Columbus, Ohio. *** Some Spoilers *** The basic premise is that Neal is a dorky playboy- has no real goals in life and just wants to enjoy himself while he's young. He meets Brenda in a rich social club's pool, who is very pretty and fights with her mother about boys. Her mother wants her to date and eventually marry a responsible boy from a Rich family. Brenda appears to date Neal out of spite and as she fights with her mother over her new boyfriend, she pulls away further and ends up sleeping with Neal- like every day until she goes away to college... just to make her mom mad. More on this later. Neal and Brenda are enjoying their summer fling, which lasts only a couple of weeks, then she goes back to school and it seems that she purposefully leaves her diaphram (contraceptive) in her drawer back home for her mom to find. Now both of her parents, even her indifferent father, disapproves and Brenda has no choice but to break up with Neal. I don't think that Neal was super serious and was planning on marrying Brenda, but he did look depressed walking away at the end. This was a nice movie with good acting- nothing was subtle though. Each character was meant to have certain traits- and they were 100% that. Example, Ali MacGraw's little sister was meant to be a brat- and there was no question that she was a brat. Every scene she was in was super bratty. The mother was meant to disapprove of Neal- and every scene she was in she was interrogating him and making it very clear she doesn't like him. The brother was a very likable character, but was like a dumb jock. His most powerful scene I think was one night he asked Neal if he wanted to come in his room to listen to some records- and as they were talking- his Ohio State Columbus song came on and he started daydreaming about his college days I presume when he was happy- then his father burst out of his room and said "TURN THAT OFF IT'S A WORK NIGHT YOU HAVE TO GET YOUR REST". Snap back to reality. Also, when Brenda told Neal that her brother was going to start working for her father's company, he said "what happened to his dream of being a gym teacher?" Brenda said that he was getting married now, so has responsibility. That whole idea of forgoing your dreams to be responsible for your family is an idea that Neal wasn't ready for. One of the better scenes was Brenda's older brother getting married. The ceremony was out of control. Jewish people know how to party. They eat like pigs, dance like noone is watching certainly get wild. I enjoyed that guy blabbing into Neal's ear and following him the whole movie talking about nothing. There was a party earlier in the movie with college kids and I got a kick out it when one kid kept trying to guess what school Neal went to- kept guessing... wouldn't give up. Neal got drunk and started asking one of Brenda's friends the same way. Radcliffe??? No. Dartmouth??? No.. Brown??? Then when he guessed right, he pulled the two kids together to talk about their school nonsense. It was more amusing than I can make it sound with words. I also liked the fact that Brenda's family was rich, but it wasn't cliche in the sense that they were all stuck up and all- the father is not what you'd call a sophistocated socialite (wife and youngest daughter could pass for that though). They were poor at one point (scene with Brenda looking through old furniture) and her father's business became successful. I couldn't get over the fact that Neal looked like a younger version of Mr. Bean. He was very goofy looking and had that quirkiness about him. Impressions I was left with- Brenda had some big time issues- which is very good for a loser playboy like Neal who wanted to have fun with a girl for the summer. She dated and slept with him just to spite her mother, although she was slightly charmed by his dark/rude humor. She had a lot of emotional issues. Neal was not serious about anything- and his stories about his parents living in Arizona and his army stories- who knows if they were true or not. Not sure why he'd lie about that stuff, but me questioning those things goes to show you what type of humor he had. Sometimes, relationships don't have a happy ending and Brenda pretty much ended it at the end of the movie. I felt that she wanted it to end because while away at school in Boston, she couldn't annoy her mother as much by dating Neal. Neal served his purpose to Brenda, so she found a devious way to get out of the relationship. If you like older movies, especially if you enjoy all things Jewish, you'll get a kick out of this movie.
Nick Brush
Discussion Forum
Discuss Goodbye, Columbus on our Movie forum!