Goodbye, Dragon Inn
(2004)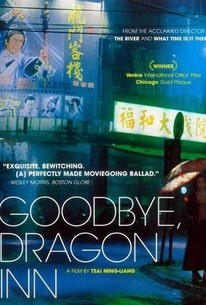 Goodbye, Dragon Inn Photos
Movie Info
In a cavernous movie palace, King Hu's classic 1968 film Dragon Inn plays for a sparse crowd. As the movie progresses, the ticket-taker makes dinner, cleans the bathroom, and checks in on the projectionist. Audience members wander in and out, occasionally interacting in the restroom or the vast hallways that surround the theater proper. Minimally plotted, Tsai Ming-Liang's film is a poetic, dryly humorous portrait of a place and its denizens, and an homage to a director who influenced his career.
Critic Reviews for Goodbye, Dragon Inn
Audience Reviews for Goodbye, Dragon Inn
A haunting, gorgeous and nearly-silent tribute to the experience of cinema-going that perfectly combines melancholy and deadpan humor, with a deliberate pacing that may prove too slow to casual moviegoers as it puts at times a good deal of emphasis on still moments.
Carlos Magalhães
Super Reviewer
Ming-liang's Goodbye, Dragon Inn is a contemplative mood piece that centers around a moaning, leaking, dilapidated movie theater in order to convey truths about the evolving nature of society and what this process leaves behind. Defined by voyeurism, claustrophobia, and constant rain, the elegantly composed ruin is a home to a handful of filmgoers unbothered by and uninterested in the film projected on the screen, Ming-liang juxtaposing the traditional action film with the more modern existentialism these people feel as they wander around aimlessly inside of the cavernous relic of the past. These people are lost in the constantly progressing world in which current iconography is immediately forgotten, their time in the haunted theater nothing more than a distraction; this gets to the heart of why we go to the movies, commenting on the fact the the world briefly manifests its sense of self in modes of entertainment before moving on, leaving what was in the past forever.
Reece Leonard
½
the apex of tsai's cinema, a pure distillation of movie love, both profound and simple. there are only 5 or 6 lines of dialogue in the film. you've been warned
Stella Dallas
Super Reviewer
Goodbye, Dragon Inn Quotes
There are no approved quotes yet for this movie.
Discussion Forum
Discuss Goodbye, Dragon Inn on our Movie forum!