Gorilla Bathes at Noon
(1993)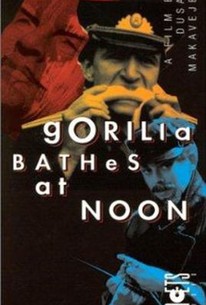 Gorilla Bathes at Noon Photos
Movie Info
By the end of this whimsical little film, we learn that its hero, a Russian army officer, is afraid that others will learn just how good the food is in Berlin's city prison, and crowd him out of his place there. It is just after the reunification of East and West Germany, and Victor Borisovic (Svetozar Cvetkovic), along with the rest of his unit, is expecting orders any day now to return to Russia. Instead, every one of his men leaves; where they went, no one knows. The government hasn't been sending paychecks to the men for some time now, and even if they did, the ruble is worth almost nothing against the mark. Victor has no men to boss around, no money, and no food. So it is not too surprising to see him wandering around the city in his fine uniform, stealing food from the zoo's animals, and making the acquaintance of all sorts of people living on the edge. Really, being abandoned in Berlin is probably the best thing that has ever happened to him.
Rating:
NR
Genre:
,
Directed By:
In Theaters:
On DVD:
Runtime:
Studio:
Alert
Critic Reviews for Gorilla Bathes at Noon
Audience Reviews for Gorilla Bathes at Noon
An odd little movie- odd even for Dusan Makavejev (and this guy did WR Mysteries of the Organism!)- but it has its moments. Most affecting is seeing the tearing down of a Lenin statue in Berlin inter-cut with footage from 1945 of Berliners winning the war. Some of it works, some not - it's the only movie I'll ever see where the main character spends time making out with a female Lenin dressed in a beard and then later on helps to pick out the bullet that's in the female-Lenin's brain. A shame it isn't always this weird though, and maybe a little dull too.
Jack Gattanella
[center][font=Times New Roman][size=4][color=white][img]http://images.rottentomatoes.com/images/movie/coverv/73/148573.jpg[/img][/color][/size][/font][/center] [font=Times New Roman][size=4][color=white]I believe I am the first person to review this on RT.com, but oh, what an awful movie. This movie is completely symbolic. There is no real literal meaning and literal meaning is nearly essential for film to be good (in my eyes). The only movie with little literal meaning that I liked was Un Chien Andalou, and that was because its visuals were amazing. Gorilla's visuals were about as common as they come. Supposedly this movie is saying something about someone's government, blah, blah, blah. If you want to say something or if you want to use symbols, that's fine, but give me an actual plot to go along with it. Stay away from this garbage.[/color][/size][/font]
Chris Weseloh
Gorilla Bathes at Noon Quotes
There are no approved quotes yet for this movie.
Discussion Forum
Discuss Gorilla Bathes at Noon on our Movie forum!